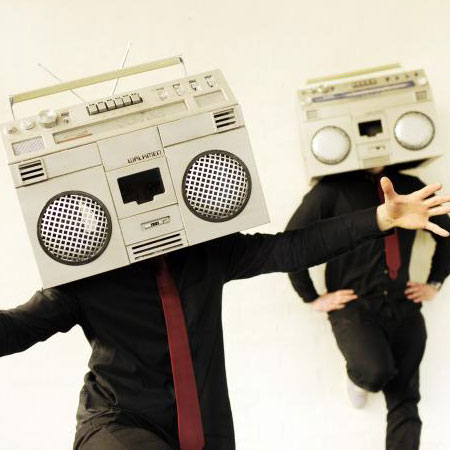 Stereo Heads Walkabout Act
Fantastic unique characters have stereos for heads & impressive dance moves
Can play songs from a wide repertoire, on the spot, to narrative every day scenes
Fun, engaging, interactive walkabout entertainment for the whole family to enjoy
Perfect for shopping malls, public events & festivals, themed events & more
Book our stereo heads walkabout act for events in Exeter, the rest of the UK & worldwide
If you're looking for unique characters, or more specifically music themed characters, our fantastic stereo heads walkabout entertainment act is perfect! These walkabout characters are brought to life by professional street performers who are experts at engaging with crowds and bringing fun and laughter to events.  
There really is no stopping our quirky walkabout characters - the stereo men! With retro ghetto blasters  for heads they have no choice but to pump out music as they walk around interacting with the public. They use popular songs and song lyrics to narrate everyday scenes (if you're near a cashpoint you'll hear the sound of ABBA's Money, Money, Money coming your way!), and film scores to turn the most mundane activities into the most epic! They'll also spontaneously break into street dance routines creating an irresistible dance floor atmosphere - no matter where they are - that will have everyone joining in.
In this non-verbal walkabout act, our energetic walkabout characters communicate with their audience through music, making it the perfect choice of walkabout entertainment for events with international audiences of all ages. Highly interactive, fun and guaranteed to engage even the shiest of spectators, book our street performers for shopping malls, public events and festivals, themed events and more.
Our street performers can customise their unique characters with costumes ranging from waiters, to builders, and everything in between. They can also play from a custom selection of songs chosen by you to ensure they suit your event theme and provide the perfect soundtrack to the goings on at your event. They can tailor their walkabout entertainment to suit any event.
To book these walkabout characters, discuss their customisable options, and find out how they could work at your event contact our entertainment co-ordinators. Don't forget that you can also pair these stereo heads with other music themed characters - just get in touch with our entertainment coordinators to find out more.