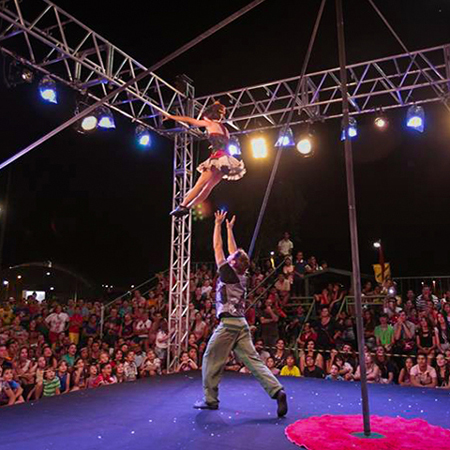 Street Circus Duo Argentina
Visually stunning acrobatic street circus show with theatrics and humour
Act is based around freestanding Chinese pole six metres high
Visual comedy and impressive stunts need no spoken words to impress audiences
The duo has performed in 26 countries and participated in over 130 festivals
Based in Buenos Aires and available for events all over the world
Street Circus Duo Argentina VIDEOS
Street Circus Duo Argentina PHOTOS
Having performed over 850 shows in 26 different countries and participated in over 130 festivals, our Street Circus Duo Argentina has an act that appeals to all kinds of audience, no matter their age or nationality. The pair of street performers have devised and exciting acrobatic act that guarantees to pull in a crowd.
Using a fantastic freestanding Chinese pole that stretches six metres high, Street Circus Duo Argentina have created a wonderful acrobatic act that involves some visually stunning stunts high up in the air, as well as on the ground. The street circus show is cleverly constructed around silent movie-style theatrics and has plenty of visual comedy that requires no language for viewers to find funny. 
The two incredibly talented street performers have an amazing level of skill. The street circus show displays incredible strength and agility. Some of the acrobatic acts in the show will literally have guests on the edge of their seats and they will be amazed how the street performers pull it off. 
The internationally travelled Street Circus Duo Argentina has picked up awards and high prize winnings in Spain, Germany and Switzerland. Their street circus show has a had a month-long residency in a hotel in Macao, toured the world several times and been booked for special events. 
This circus entertainment is highly enjoyable and suited to a wide variety of events. The freestanding Chines pole can be set-up anywhere, either indoors or outdoors. 
Contact us if you are looking for circus entertainment and this street circus show takes your fancy.