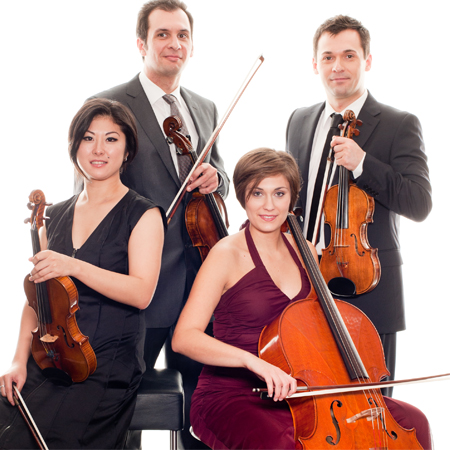 String Act Berlin
Popular string quartet with a Classical, Jazz and Pop repertoire
Featuring two violins, viola and a cello
Musicians have performed together for over six years
Themed set also available including movie soundtracks
Based in Berlin, Germany and available to perform worldwide
This string quartet from Berlin are available for concerts and corporate events all around Germany.  With a huge set list including classical music, film music, jazz and pop, they will adapt their songs to the clients wishes.
All of them are professional musicians and have been performing together for six years. This experience is visible in their show, with Böhme-Zeitung newspaper praising their passionate performance and class.
The string quartet line up consists of: first violin, second violin, viola and cello.
To find out more about how to book get in contact with our helpful team of Entertainment Experts.
Albinoni
Adagio in G minor
Creek
Air
Badinerie
Jesu meine Freude
Beethoven
German Dances
Fur Elise
Ode to Joy (Ode to Joy)
Boccherini
Minuet
Brahms
Hungarian Dance No. 5
Charpentier
Prelude from "Te Deum"
Chopin
Nocturne in E flat major
Polonaise Militaire
Prelude in E minor
Elgar
Salut d'amour
Gounod
Ave Maria
Grieg
Gavotte from Holberg Suite
Handel
Arrival of the Queen of Sheba
Hallelujah
Hornpipe from "Water Music"
Haydn
Andante from Symphony No. 94 "Surprise"
Serenade from String Quartet No. 17
Symphony No. 77 - Finale
Mendelssohn
Wedding March from "A Midsummer Night's Dream"
Mozart
Alla Turca
Ave Verum Corpus
Alleluia from "Exsultate jubilate"
Divertimento in B flat major
Divertimento in D Major
Divertimento in F major
A Little Night Music
Larghetto from Clarinet Quintet
Pachelbel
Canon in D Major
Saint-Saëns
The Swan
Schubert
Ave Maria
Military March
Moments Musicaux No. 3
Schumann
Daydream
Vivaldi
Concerto Grosso in B flat major
Concerto Grosso in D minor
The four seasons
Palm court music
Anderson
Plink Plank Plunk
Sleigh Ride
Capua
Oh Maria Mari!
O sole mio
Cottrau
Santa Lucia
Gardel
"Por una Cabeza"
(Tango from the movie "Scent of a Woman")
Joplin
Fig Leaf Rag
New Rag
Ragtime Dance
The Entertainer
Kreisler
Little Viennese march
Liebesfreud
Liebesleid
Schön Rosmarin
Leoncavallo
Mattinata
Monti
Csárdás
Mores
Cafetin de Buenos Aires
Fueye ...!
Osborne
Suite and Light
Piazzolla
Adios Nonino
Suppé
Boccaccio march
Classical Music:
Handel
Aria from the opera "Rinaldo"
Largo from the opera "Xerxes" (Ombra mai fu)
Massenet
Meditation from the opera "Thais"
Mussorgsky
Gopak from the opera "The Fair at Sorotschinzy"
Offenbach
Barcarolle from the opera "The Tales of Hoffmann"
Gallop from the opera "Parisian Life"
"Can-Can" from the operetta "Orpheus in the Underworld"
Puccini
"Nessun Dorma" - aria from the opera "Turandot"
"O mio babbino caro" - aria from the opera "Gianni Schicchi"
Verdi
Prisoners' Chorus from the opera "Nabucco"
"La donna è mobile" from the opera "Rigoletto"
Drinking Song from the opera "La Traviata"
Wagner
Wedding March from the opera "Lohengrin"
Jazz & Pop Songs:
Al Green
Let's Stay Together
Barbra Streisand
"Evergreen" from the movie "A Star Is Born"
Bill Haley
Rock Around The Clock
Bryan Adams
(Everything I Do) - I Do It For You
Burt Bacharach
(They Long To Be) - Close to You
Carlos Santana
Evil Ways
Charles Aznavour
She
Elton John
Your Song
George Gershwin
Bidin 'My Time
Embraceable You
I Got Rhythm
George Weiss
What A Wonderful World
Gloria Gaynor
I Will Survive
Harold Arlen
Over The Rainbow
Harry Warren
I Only Have Eyes For You
Henry Mancini
Moon River
James Horner
My Heart Will Go On
Jerome Kern
Smoke Gets In Your Eyes
Karl Jenkins
Palladio
Led Zeppelin
All My Love
Mariah Carey
Without You
Queen
The Show Must Go On
Secret Garden
Fairytale
Serenade to Spring
Sting
Every Breath You Take
The Beatles
Hey Jew
Yesterday
Vincent Youmans
Tea For Two
Film Music:
Ager
Weekend and sunshine
Brühne
Can love be a sin?
(Foxtrot from the movie "The Blue Fox")
The wind told me a song
(Song and Tango Habanera from Ufafilm "La Habanera")
Heymann
A friend a good friend
(Marching song from the operetta-talkies
"The three of the gas station")
Jary
Of these the world is not under
(Waltz from the film "The Great Love")
Jurmann
"Veronica Spring Has Arrived"
Kreuder
Music Music Music
(Foxtrot from the movie "Hello Janine")
Leander
I know it will happen once a miracle
(Song from the movie "The Great Love")
Porter
True Love (Waltz from the film "High Society")
Paddy field
My Little Green Cactus
Righteous Brothers
Unchained Melody from the film
"Ghost - Message from Sam"
Young
In 80 days around the world
Opera and Operetta Melodies:
Übergabe der Bachelor-Urkunden in der Fachhochschule für Wirtschaft in Paderborn
Musikalische Begleitung der Office Eröffnung der Gallup GmbH in Berlin
Musikalische Umrahmung einer Hochzeitsfeier im Schlosshotel Münchhausen Aerzen
Hochzeitsfeier im Schloss Kartzow in Potsdam
Benefizkonzert "Classic meets Rock" mit der Band "Luxuslärm" in Grevenbroich
Klassisches Weihnachtskonzert der Volksbank im Erbdrostenhof in Münster
Musikalische Unterstützung anlässlich des 150. Geburtstages vom Krankenhaus Bethel in Bückeburg
Empfang des Britischen Honorarkonsulats zu Ehren des Geburtstags der Queen in Stuttgart
Musikalische Umrahmung der Ehrung "50 Jahre Vertragspartner mit VW" in Wolfsburg
Begleitung des internationalen Networkmeetings von MEDIA CONSULTA in Berlin mit Außenminister und Vizekanzler a. D. Hans-Dietrich Genscher als Ehrengast
Musikalische Untermalung des 175-jährigen Jubiläums der Celesio AG in Stuttgart
"40 Jahre Glücksspirale" - Festveranstaltung von LOTTO Bayern im Olympiastadion München
Konzertabend im Atelier de Bruycker in Schneverdingen
Feierlichkeit anlässlich der Eröffnung des Neubaus der Ostseeklinik Schönberg-Holm
Musikalische Unterstützung des Projektes "Burg Sternberg" für das Westfälische Kinderdorf e.V.
2. Auszeichnungsveranstaltung der Initiative "Orte der Vielfalt" in Berlin
Musik im Herzen – Klassik Open-Air in Groß-Umstadt (Frankfurt am Main)
60 Jahre "Bund der Vertriebenen in Hannover" – Musikalische Begleitung
75-jähriges Jubiläum "Deutsches Kfz-Gewerbe" in Düsseldorf
JAWA-Reisen 20-jähriges Jubiläum – Musikalische Begleitung
Musikalische Umrahmung einer Hochzeitsfeier im Hotel Lindtner Hamburg
Einweihungsfeier des neuen Johannes Wesling Klinikums in Minden
Hochzeitsfeier im Schloss Berge in Gelsenkirchen
Hochzeitsfeier im Schloss Cappenberg in Selm
Konzert bei der Lifestyle-Eventmesse "Herbstzeitlos" 2007 und 2008 in Herford
Übergabe der Bachelor-Urkunden in der Fachhochschule für Wirtschaft Gütersloh
Festveranstaltung zu Ehren des 200. Geburtsjubiläums von Dr. Ludwig Windthorst in Bad Iburg
Musikalischer Show-Act beim Hyundai Top Dealer Business Meeting 2011 in Offenbach
Weihnachtsfeier bei der Konzept & Marketing Gruppe in Hannover
Akademische Feier der Deutschen Bundesbank in Eltville am Rhein
Kirchliche Trauung & Sektempfang im Residenzschloss in Oettingen
Begleitung des 29. Türkischen Bankenabends im Marriott Hotel in Frankfurt
Jubiläum zum 30-jährigen Bestehen der Fachhochschule der Deutschen Bundesbank auf Schloss Hachenburg
Cocktailempfang im Hotel Adlon Kempinski in Berlin
Musikalische Mitwirkung bei der Gründungsversammlung der European Business School in Wiesbaden
Kammerkonzert auf Schloss Jever in der Konzertreihe "Ein Schloss voller Musik"
Benefizkonzert zugunsten der 4. Kunstauktion "LebensKünstler" in Hamburg
Deutsche Rückversicherung AG - Verabschiedung des Vorstandsvorsitzenden in den Rheinterrassen in Düsseldorf
Galakonzert für die Apollinaris GmbH
Verabschiedung des Vorstandsvorsitzenden der TRUMPH Sachsen GmbH Reiner Strehle
Fernsehauftritt bei der ARD Serie "Verbotene Liebe"
Verleihung des Ehrenbürgerrechtes der Stadt Geseke an Ingrid Mickler-Becker
Musikalische Begleitung des 49. Internationalen BICOM Kongress in Fulda
EU traut sich – Vermählung am 9.09.2009 – JA zu Europa!
Festakt zur Bachelorfeier der Katholischen Hochschule NRW in Paderborn
Konzertabend "Wiener Klassik" im Barockschloss Eringerfeld
Festakt zur Verabschiedung vom Vorstandsvorsitzenden Dr. Michael Winckler in Bückeburg
Literarischer Abend der Brentano-Gesellschaft in Frankfurt
Fachhochschule der Wirtschaft Bielefeld - Diplomübergabe
Veranstaltungs-Gala im Schloss Hohenheim in Stuttgart
Jubiläumsfeier des Knappschaftskrankenhauses in Dortmund
Weihnachtsfeier beim Autohaus Siebertz - Mercedes-Benz in Stolberg
Musikalische Untermalung der Mitgliederversammlung des Bundesverbandes der Lohnsteuerhilfevereine 2012 im Maritim Hotel in Berlin