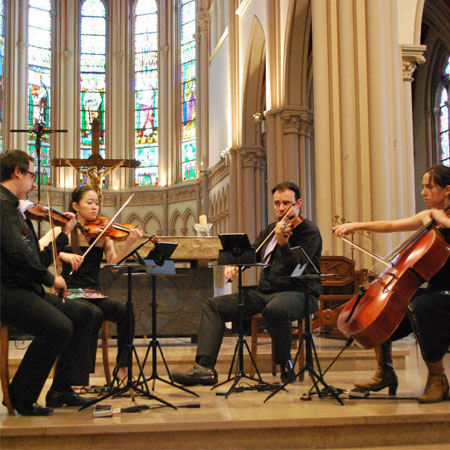 String Quartet Brussels
String Quartet who perform a unique and modern mixture of string music
Highly original, they merge classical compositions with contemporary
The only European ensemble to read their musical scores from iPads
An innovative musical ensemble that will amaze and surprise guests
Based in Brussels and available to perform at events worldwide
Formed in 2010 to promote contemporary repertoire, this String Quartet, based in Brussels, have found an original voice by merging classical compositions with contemporary to enhance the direct collaboration and contact between the composer and performers.
Consisting of three French and one Japanese player, the contemporary quartet represent artistic patterns in a speedy and highly unique mixture of string music. They are the only European ensemble to have discarded conventional scores to perform from I- Pads.
There are no boundaries in style or genre to which the quartet is interested in presenting. Classical repertoire finds its place in versatile programmes amongst more revolutionary material in hope to present more educational projects to their listeners.
A truly unique and innovative musical ensemble, String Quartet Brussels are sure to get guests at your next event listening and talking with utter amazement and curiosity.