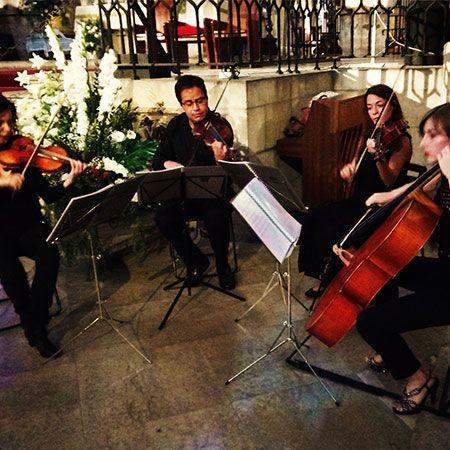 String Quartet Catalonia
Beautiful strings background music for walking down the aisle or setting the perfect tone for your special occasion
Varied repertoire includes wedding ceremony music and other classical an contemporary compositions
Available in different lineups, our Catalan string ensemble can also be booked as a duo and as a trio
Ideal strings background music for wedding ceremonies, receptions, corporate dinners, etc.
This String Quartet is based in Barcelona and available for bookings in Catalonia and the Balearic Islands
If you're looking for a String Quartet in Catalonia to perform at your wedding or special event, then look no further. This Catalan string ensemble is guaranteed to set the perfect tone for your occasion with classical or contemporary instrumental music.
Available in many different lineups, our Catalan string ensemble can be also booked as a string trio and duo. Both options accompanied by a soprano singer are a very popular choice amongst brides and grooms for their wedding ceremony and reception.
Specialised in strings background music for weddings and receptions, this wedding string quartet knows how to set the perfect tone for your special occasion. Whether it's wedding ceremony music for walking down the aisle or ambience music for a dinner, our string musicians will make sure they create the perfect sound track for your big day.
Our musicians' repertoire is filled with the best classical and contemporary music of all times. Compositions by Vivaldi, Mozart and Bach are especially popular for wedding ceremonies. Film soundtracks such as 'The Lion King', 'Valse de Amelie' or 'Gladiator' are also very requested melodies! Fully customisable, this event and wedding string quartet will be happy to adapt their set list to your needs.
An in-demand wedding ceremony music ensemble, our musicians are also suitable for other events such as cocktail lounges, dinners, corporate events and any other type of social gathering requiring strings background music.
Scarlett Entertainment offers a broad range of strings background music options for events and weddings in Catalonia, Spain and worldwide.
If you would like to book this String Quartet in Catalonia and surrounding areas, then contact us today and make an enquiry. Our dedicated team of Entertainment Specialists will be more than happy to provide further details on this wedding string quartet and assist you in the booking process.