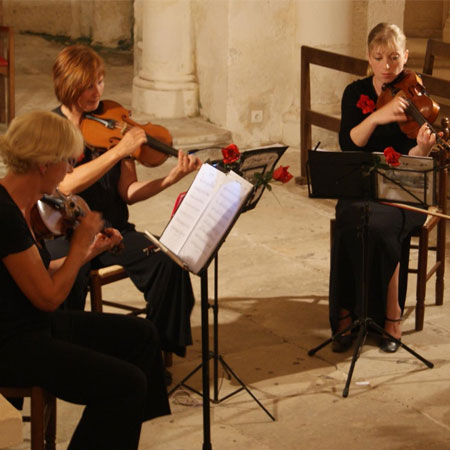 String Quartet Dordogne
Beautiful classical string quartet adds style and elegance to any event
Extensive repertoire inc classical, baroque, romantic, tango, pop, jazz
Popular with weddings, garden parties, corporate functions & funerals
Also available as a piano and violin duo
Based in the Dordogne & available to perform at events across France
String Quartet Dordogne PHOTOS
This Dordogne based string quartet group consists of highly skilled professional musicians who add elegant and unforgettable sacred atmosphere to your event.  For several years this group have performed in orchestra or chamber ensembles at festivals and concerts in Aquitaine bringing sophistication and a fitting ambience to any event.
The classical string quartet perform an extensive wide repertoire of music including classical, baroque, romantic, tango, pop & jazz. This experienced quartet are in great demand to perform at wedding ceremonies, garden parties, exhibitions, corporate functions and funerals. 
The group are also available as a piano and violin duo and have recently purchased a transportable organ. This is a unique element of their act and is rare to find amoungst other string quartets. The blend of the different instruments will give your event ambience and each performance can be tailored to the atmosphere or theme you are trying to create.
Looking for something in particular? Enquire today for a tailored quote for your event.
Abinoni
Adagio
Albeniz
Tango
Bach
Air (on 3)
Arioso
Jesu joy
Bizet
Carmen Habanera
Boccherini
Minuet
Brahms
Hungarian Dances
Serenade
Chopin
Waltzes
Preludes
Night
Clementi
Sonatinas
Corelli
Violin Sonata
Dall'Abaco
Sarabande
Aria
Debussy
Clair de lune
Delibes
Flower Duet Lakme
Diabelli
Sonatas
Dvorak
Humoresque
Faure
Pavane
Fiocco
Allegro
Gounot
Ave Maria
Handel
Arrival of the Queen of Sheba
Largo
Fireworks at the court of King
Water music
Ivanovici
Waves of the Danube
Mendelsohnn
Wedding March
Mozart
Ave Verum
A Little Night Music
15 Sonatas church
Rondo in Turkish
Easy sonata
Offenbach
Gallop
CLASSICAL
Canon
Pleyel
Andante
Saint-Saens
The Swan
Schostakovich
Waltz Suite Jazz
Schuman
Reverie
Schubert
Ave Maria
Moment Musical
Serenade
Strauss
Pizzicato Polka
Radetzky March
Annen-Polka
Blue Danube
Viennese Blood
Tchaikovsky
Barcarolle
Verdi
Aida
Vivaldi
Seasons
Largo
Wagner
Wedding March
POP & VARIETY
The Beatles
Yesterday
Michelle
Cohen (Buckley)
Halleluja h
Corona
Plaisir d'Amour
Glen Miller
Moonlight Serenade
Horner
Titanic (Rose)
Jarre
Doctor Zhivago
Joplin
The Entertainer
Waterfalls
Pleasant times
Maple leaf rag
The easy winners
Bethena rag
Mancini
Moon River
Moya
The song of songs
Piazzola
Libertango
Presley
Love me tender
Pachelbel