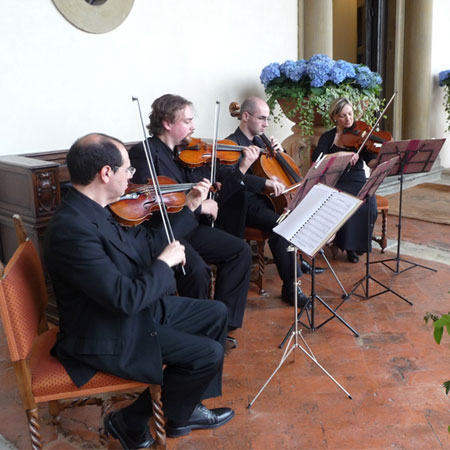 String Quartet Florence
Stunning string quartet bring class and elegance to any event
Moving and beautiful their performances will leave audiences breathless
Can perform in Renaissance costume and Medieval and Renaissance pieces
Also perform as a duo or trio and alongside a soprano, pianist or harpist
Based in Florence, Italy and available for events worldwide
String Quartet Florence VIDEOS
String Quartet Florence PHOTOS
Bring an abundance of class and elegance to your event with this stunning string quartet. Elegant attire and stunning musical compositions dextrously performed will leave audiences breathless. Their extensive repertoire of classical pieces can be customised to suit your event and create the perfect ambiance.
This versatile quartet can also perform as a duo or trio and alongside a soprano, pianist or harpist. Perfect for weddings and banquets, they are also ideal for Renaissance and Medieval themed events; they can perform pieces from the Renaissance and Medieval period while dressed in Renaissance clothing.
If you wish to book this or any of our other fantastic acts, contact one of our entertainment co-ordinators who will be happy to assist you.
Albinoni – Concerto per archi Bach – Aria
Bach Arioso
Bach – Badinerie
Bach – Concerto brandeburghese num 3 allegro1°tempo/allegro 3°tempo
Bach – Concerto Brandeburghese num. 5 Bizet – Habanera
Boccherini – Minuet
Brahms – Ungarian Dance num 1
Brahms – Ungarian dance num. 5
Brahms – Valse
Clark _ Trumpet Voluntary
Corelli – Concerto grosso "Per la notte di Natale"
Corelli – Concerto grosso num 7
Delibes _ Flower Duet
Dvorak – Humoresque
Elgar – Chanson the Matin
Elgar – Pompe and Circumstance
Elgar – Salut D'Amore
Grieg – Norvegian Dance
Gounod Ave MAria
Haendel – Hornpipe
Haendel – Suite 10 – 11 – 19 – 14 – 15
Haendel La Paix Hornpipe Royal Fireworks Music
Haendel Arrival of Regina di Sheba
Haendel - Halleluja
Leoncavallo – Mattinata
Massenet – Thais
Mascagni – Intermezzo da Cavalleria
Rusticana Monti – Czardas
Morricone – I promessi sposi
Morricone Gabriel's oboe
Morricone C'era una Volta in America
Mozart – Divertimenti per archi num. 123
Mozart – Eine Kleine Nachtmusick
Mozart – Non più andrai
Mozart – Quartet in G
Mozart – Voi che sapete
Mozart – Exultate jubilate
Pablo de Sarasate – Romanza
Andaluza Pachelbel – Canone in D
Puccini – O mio babbino caro
Puccini – Quando m'en vò
Purcell – Two Rondeau
Rossini – Ballet music
Satie – Gymnopedie 1
Schubert Ave Maria
Strauss – Pizzicato Polka
Tchaikovsky – Walts from Swan
Lake Verdi – Brindisi
Verdi – Chorus "Il trovatore"
Verdi – Gran march from Aida
Verdi – La donna è mobile
Verdi – Rigoletto
Vivaldi – Concerto alla rustica
Vivaldi – Concerto in A minor
Vivaldi – Concerto in La maggiore
Vivaldi Concerto per due violini
Vivaldi – Gloria
Vivaldi – Le stagioni
You rase me up
Strauss Tales from the Vienna Woods
Strauss Artist's life
Strauss Wine Woman and Songs
Strauss The Beautiful blu Danube
Strauss Wiener Blut
Strauss Emperor Valze
Classic:
Adele – Sky Fall
Ah Maria Marì
All Time High - Octopussy
Amor de Chocolate
Annie's song – John Denver
Anos – Dourados
Baby – Justin Bieber
Baby Elephant
Bad Romance - Lady Gaga
All you Need is love - Beatles
And I Love Her - Beatles
Get Bach I Say a Litle Prayer - Beatles
Hard Days Night - Beatles
Ben – Michael Jackson
Billie Jean – Michael Jackson
C'era una volta in America ( Morricone )
Can't help Falling in Love – Elvis Presley
Charade – Mancini
Chattanooga choo choo
Cielito Lindo
Concerning Hoobits
Cry me a river - Justin Timberlake
Dexter's Tune ( Awakenings)
Don't cry for me argentina
Don't stop believing
Don't know why - Nora Johns
Dreams
Eleonor Rigby
Fascinations
Feelings
Fields of Good
First Polovitsan Dance – Borodin
Fly me the Moon
Funiculì Funicolà
Gabriel's oboe - Morricone
Goldberg Variation
Guns n Roses
What is love - Haddaway
Halleluja – Cohen
Hedwig's Theme
Here There and Everywhwr
Hey – Soul Sister
Hey Jude - Beatels
Il Postino
Io Te Vurria Vasà
It had to be you -Sinatra
Jeito Do Mato
Films:
A Whole New World
Baby Elephant
C'era una volta il West
C'era una Volta in America
Gabriel's Oboe
Gladiator Theme ( The battle )
Hedwig Theme ( Harry potter )
Mission Impossible
Moon River
Nuovo Cinema paradiso
Pirate of Caribbean theme
Schinder List
Speak Softly Love
The Entertainer – Joplin
The Fools who live on the hill – Kern
The gremlin rag Gremlings
The Impossible dream
The Magnificent seven
The Man From Snow River – Rowland
The Maple Leaf – Joplin
The music of Goodbye- Barry
The Prayer ( ( Quest of Camelot)
The Sternness Life – Joplin
The throne Room ( Star Wars)
Theme from a summer place
Theme from E.T
Unchained Melody
Pop:
Convention Bureau Firenze
Hotel Andana - Tenuta la Badiola
Castello di Vicarello - Firenze
Castello di Vincigliata (Firenze)
Castello di Modanella
Villa Balbianello (Lago di Como) - Foreveramore wedding
Poggio Torselli - San Casciano (Proprietà Meneghini)
Porsche Italia
Brunello Cucinelli (Cashmere)
Four Season - Firenze
Castello di Meleto (Gaiole in Chianti)
Castello di Gabbiano (Firenze)
Hotel Villa la Massa (Firenze)
Circolo Borghese - Firenze
Pitti Firenze