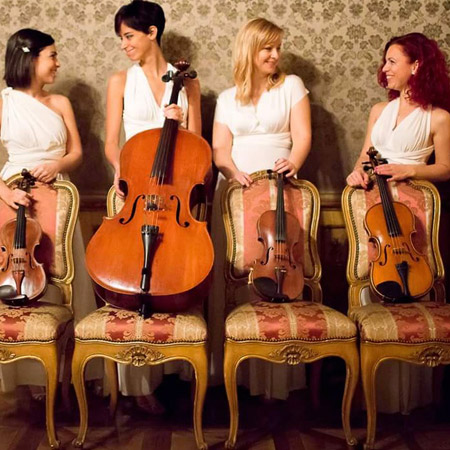 String Quartet Italy
Fantastic string musicians will transport your guests to a calming state of mind.
Incredible and elegant string performers will turn heads and captivate your guests.
Exceptional string act can tailor their performance to fit your event.
Perfect live music show for wedding receptions, private parties, themed events, and more.
Book string quartet for events across Italy and worldwide.
String Quartet Italy PHOTOS
Our fantastic string act is a professional and sensational group of string musicians who are ready to take your special event or social gathering by storm! A fun filled and elegant band of string performers will captivate your guests with their unique cover renditions of popular songs from movies, other well known performers, and even more traditional Italian tunes. All of our live music show string performances feature string arrangements created by our beautiful string quartet, and is bound to have your guests at the edge of their seats as they experience a true live music show filled with bliss and acceptance.
A hit among weddings and theatre performances, our exceptional string quartet features a lovely line of string musicians that have been performing for years, throughout the world at a variety of different events. Our exceptional string performers will perform reworked tunes including, "Amazing Grace," "Yesterday" by John Lennon, "My Heart Will Go On" by Celine Dion, and a vast assortment of songs by The Beatles. Our live music show is filled with passionate, dedicated, and sophisticated string musicians, an atmospheric building string act that will keep your guests talking for months.
Our blissful and calming live music show experience will help create unique and unforgettable memories and lasting impressions for your guests, an experience that will see your event hitting new levels of amazing. A wonderful mixture of classical performance styles and strong modern tracks, our phenomenal string quartet can adapt their live music entertainment experience to fit most event themes and style guidelines, creating a fabulous performance along the way. Our string quartet is the perfect live music show for weddings, private parties, theatre performances, drink receptions, themed occasions, corporate events, gala dinners, and more. 
If you're interested in booking our exceptional string quartet and treat guests to lovely instrumental music, contact any of our entertainment experts who are standing by to assist you with your booking needs.
Ave Maria (Bach / Gounod)
Ave Maria (Schubert)
Wedding March (Wagner / Mendelssohn)
Hornpipe From The Water Music (Handel)
The Lord's Prayer (Malotte)
Water Music Minuet (Handel)
Ode To Joy (Beethoven)
Canon (Pachelbel)
Panis Angelicus (Frank)
Sabbath Prayer (Bock)
Sunrise Sunset (Bock)
The King Of Denmark (Purcell)
Trumpet Voluntary In D (Clarke)
Wedding Song (There Is Love) (Stookey)
Entrance Of The Queen Of Sheba "(Handel)
Rondo (Symphonies Des Fanfares) (Mouret)
Sheep May Safely Graze From Cantata No. 208 (Bach)
Overture (Music For The Royal Fireworks) (Handel)
The Réjouissance (Music For The Royal Fireworks) (Handel)
Chaconne ( Naughtin)
Meditation Thais (Naughtin)
Recessional (Naughtin)
Wedding Processional (The Sound Of Music) (Rodgers)
Adios Nonino
Avant De Mourir
Besame Mucho
Blue Tango (Anderson)
Calambre (Pitch)
Evening Shadows
Escape Mystery (Pitch)
Tango Jalousie (Gade)
La Cumparsita
La Muerte Del Angel
Latin Set
Libertango
Tango El Choclo (Villoldo)
Oblivion (Pitch)
Rumanian Folk Dances (Bartók)
O Sole Mio
Funiculi Funicula`
Csardas
Chelita
Golden Earrings
Kalinka
Gypsy Life
Moldovanke
Galway Rambler Medley (Irish Songs
Life Is Beautiful (Piovani)
Lamento Quichua (Gianneo)
Laura (Raksin)
Loony Tunes Fugue (Naughtin)
Lost In The Stars
Manha De Carnaval- Black Orpheus (Bonfa)
Maria - West Side Story (Bernstein)
Memory - Cats (Lloyd- Webber)
Birthdayvariations (Variationi On "Happy Birthday")
The Music Of The Night - Phantom (Lloyd-webber)
My Funny Valentine (Rodgers)
New York New York (Kander)
Noites Cariocas (Bandolim)
One Hand One Heart - West Side Story (Bernstein)
The Orange Blossom Special (Rouse)
Over The Rainbow (Arlen)
Romeo And Juliet Love Theme (Rota)
Kissing You -from The Movie Romeo And Juliet
Send In The Clowns (Sondheim)
Someone To Watch Over Me (Gershwin)
Somewhere - West Side Story (Bernstein)
Stormy Weather (Arlen)
The Summer Knows (The Summer Of '42)
Tonight - West Side Story (Bernstein)
What Are You Doing The Rest Of Your Life?
I'll Stand By You (Pretenders)
Killing Me Softly With His Song (Roberta Flack)
L`amore Is A Wonderful Thing
Love Me Tender (Elvis Presley)
Michael Jackson Medley
My Heart Will Go On
New York New York
Tell Me D` Love Mariu`
Purple Haze (Hendrix)
Rondo Veneziano - La Serenissima
I Want To Live Like That
What A Wonderful World (Louis Armstrong)
Yesterday (J Lennon )
You Raise Me Up
Amazing Grace (Traditional)
Carmen (Bizet)
Merry Widow (Lehar)
La Forza Del Destino (Verdi)
Traviata (Verdi)
Rigoletto (Verdi)
Madama Butterfly (Puccini)
Tosca (Puccini)
Manon Lesco (Puccini)
Nabucco (Verdi)
Aida (Verdi )
Il Trovatore (Verdi)
Gianni Schicchi (Puccini)
Turandot (Puccini)
T.albinoni - Adagio
Am Bach - Menuet
Barber - Adagio For Strings
Bartok - Romanian Folk Dances
Boccherini - Allegretto
Bizet - Arias From Opera '' Carmen ''
Brahms - Hungarian Dances No. 1 5 6
Charpentier - Te Deum Prelude
Faure`- Pavane
Gershwin - Prelude No. 2
Grieg - Suita Peer Gynt
Gounod - Ave Maria
Mendelssohn - Weding March
Naughtin - Simple Gifts Escape
Pachelbel - Canon In D
Monti - Csarda
Of Largo Concerto For Two Violins.
Kreisler - The Old Refrain Tambourin Chinois
Mascagni - Intermezzo Cavalleria Rusticana
Massenet - Morning Meditation Of Thais
Satie - 3 Gymnopédies
Schubert - Ave Maria
Shostakovich - Romance
Por Una Cabeza (Gardel)
The Rumba
Only Una Vez
Tanguedia Iii (Piazzolla)
Tango In D (Albeniz)
Tango (Goran Bregovic)
Of Maurice Tango
Tango Criollo
Danzas Argentinas No. 2 (Ginastera)
Tango (From Scent Of A Woman) (Gardel )
Brazileiras Bachianas No. 5 (Villa-lobos)
Tango Albenitz
Tico-tico (Abreu)
the Broken Tango
All I Ask Of You - Phantom (Lloyd-webber)
Amarcord (Rota)
America - West Side Story (Bernstein)
Ashokan Farewell - The Civil War (Ungar)
As Time Goes By (Hupfeld)
Begin The Beguine (Porter)
C`era A Time In The West (Morricone)
Come In From The Rain (Manchester)
Dance Of The Hours (Ponchielli)
Do It Again (Gershwin)
Misty (Garner)
Embraceable You (Gershwin)
Evergreen (Streisand)
Forgotten Dreams (Anderson)
For Just A Moment - St . Elmo's Fire (Foster)
Gabriel`s Oboe (Morricone)
The Godfather Love Theme (Rota)
Goodbye To Love (Carpenter)
I Feel Pretty - West Side Story (Bernstein)
I Got Rhythm Variations (Gershwin / Naughtin)
I Love Paris (Porter )
If You Could Read My Mind (Lightfoot)
In The Mood (Garland)
Kissing You -romeo And Juliet
What's New? (Haggart)
The Beatles
Can-can
Can Not Help Falling In Love
With You Partiro` (Andrea Bocelli)
Congratulations
Feelings (Albert)
From This Moment
Giorgia On My Mind
Girl From Ipanema
Heaven - Brian Adams
Imagine (Lenon)
La Bamba
Summertime
La Bohème (Puccini)