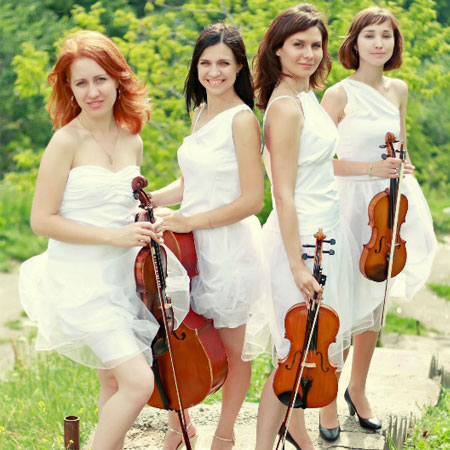 String Quartet Russia
Four elegant, glamorous females - musically trained to the highest level
Set list can include classical music, movie theme songs or pop covers
Popular with corporate events, weddings, celebrity parties & launches
Performed internationally for high profile clients & brands
Based in Nizhny Novgorod, Russia & available to perform worldwide
String Quartet Russia VIDEOS
String Quartet Russia PHOTOS
Glamorous string quartets are the ideal classical, dramatic entertainment option for a range of events from wedding ceremonies, product launches, exhibitions, corporate functions and garden parties.  
Our talented and highly trained string quartets perform traditional classical music, as well as a whole range of musical genres including rock, pop and movie theme tunes.  At Scarlett Entertainment our string quartets have been booked to perform for high profile clients, multinational corporations and at prestigious events.
The members of this Russian based String Quartet are highly professional musicians, capable of exciting the whole range of feelings and emotions of the audience with their creativity.  All the ladies have got a higher musical education at M.Glinka State Conservatory of city Nizhny Novgorod. The ladies play music of popular classics - Mozart, Bach, Chopin and Tchaikovsky, Schubert and Strauss.  
Contemporary arrangements of groups such as The Beatles and ABBA are their most popular and the quartet can proudly called them its own main feature.
The string quartet presents two different formats of performance:
Electro show program
This program contains well-known classical pieces in modern arrangement, soundtracks, instrumental versions of songs of popular performers.
Acoustic program
The repertoire of the ensemble consists of light pleasant arrangement for classic music, tangos, waltzes, popular melodies, soundtracks, and jazz music, also author's arrangements for well-known songs of ABBA, The Beatles, Led Zeppelin, Michael Jackson, Breatney Spears, etc.
Albeniz Tango
Bach Ave Maria
Bach Aria
Bach Joy of Jesus
Habanera from Bizet's opera "Carmen"
Boccherini Minuet
Brahms Hungarian Dance № 5
Drinking Song from Verdi's opera "La Traviata"
Handel Aleluyya
Dvorak Humoresque
Mendelssohn Wedding March
Mozart's "Marriage of Figaro" Overture
Mozart Turkish Rondo
Offenbach Gallop
Polonaise Oginski
Saint-Saens The Swan
Fauré Pavane
Tchaikovsky Waltz from the ballet "Swan Lake"
Tchaikovsky Waltz from the ballet "Sleeping Beauty"
Tchaikovsky Waltz from the ballet "The Nutcracker"
Waltz from Tchaikovsky's opera "Eugene Onegin"
Tchaikovsky Dance of the Sugar Plum Fairy and March from the ballet "The Nutcracker"
Chopin Nocturne in E flat major
Strauss "Annen Polka"
Strauss "Radetzky March"
Strauss waltz "The Blue Danube"
Strauss Waltz from the operetta "Die Fledermaus"
Strauss Polka "Backgammon"
Schubert Moment Musical
Music from films
«Moon River» from CF "Breakfast at Tiffany's"
Waltz from CF "Beware of the Car"
Tango from CF "Fragrance Women"
Music from CF "for the Poor Hussar Say a Word"
Music from CF "Cherbourg Umbrellas"
Beautiful music
Black Adder
Fawlty Tower
Nata's theme
Windmills
Grunfeld Waltz
Popular Classics
Yesterday
Hey Jude
Eleanor Rigby
Ticket to Ride
Hard Day's Night
I'll follow the Sun
She loves you
If I fell
Imagine
Can't buy me love
Help!
Day Tripper
ABBA
Mamma Mia
Dancing Queen
Money money
Lay all your love on me
Gimme! Gimme! Gimme!
Take a chance on me
Roy Orbison
Pretty Woman
Concert program
Pirates of the Caribbean
Money money
Sherlock Holmes
Lay all your love on me
Libertango
Gimme! Gimme! Gimme!
Toxis
Take a chance on me
Super trouper
Others
I feel good (James Brown)
Scorpions «Still loving you»
Who wants to live forever (Freddie Mercury)
Joplin Ragtime "Interteyner"
Joplin Ragtime "Pleasant Moments"
Italian song "O Sole Mio"
Italian song "Santa Lucia"
Tango "El Choclo"
F.Sinatra «My way»
The Beatles