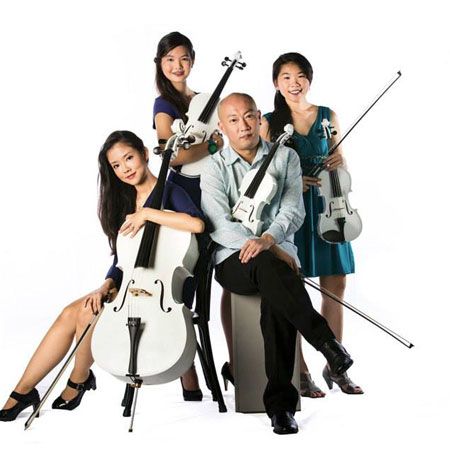 String Quartet Singapore
One of Singapore and regional Asia's most celebrated string quartet acts
Featuring the world's first blue and white quartet sets
Led by renowned violinist Han, YAMAHA's Silent String Artist
Their visual elegance & sophistication will light up your corporate event
Based in Singapore & available to perform at events worldwide
String Quartet Singapore PHOTOS
This Singapore based String Quartet are a brand new, global aesthetic entertainment concept which seamlessly blends the beauty of art with music, heightening the audience's experience with visual elegance and sophistication.
Featuring the world's first blue, white and gold quartet sets, this unique musical project are in huge demand with corporate events, product launches, wedding ceremonies and exclusive private parties throughout Asia.
Let the exquisite fusion of sheer visual beauty and enchanting music light up and complement your esteemed event!
"Pop-Rock" Concert Strings..
The string quartet are available for hire to add both music and visual aesthetics for live shows such as pop-rock concerts, variety shows and award shows.
The group can even be further expanded into a standard 6-piece Pop Strings section for shows of a larger scale.
Led by the immense experience of their Music Director, Han Oh – former American Idol band member, you can be sure to enjoy beauty of the lush string sounds throughout your show!