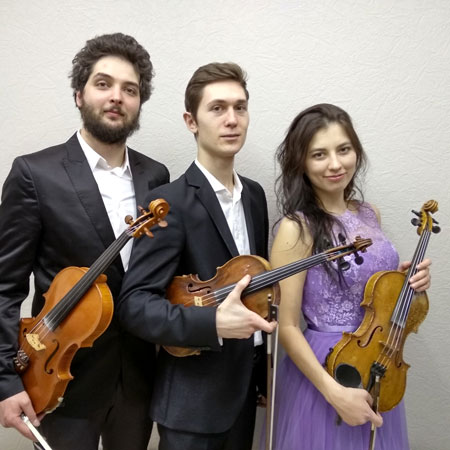 String Trio Moscow
Stunning sound of strings creates beautiful melodious music guaranteed to charm guests
Our experienced string musicians boast a vast range of genres among their repertoire
Perfect for creating an elegant and sophisticated atmosphere
Our event violinists are available as a violin trio, quartet, or solo female violinist
Based in Moscow, our string ensemble is available for international bookings
String Trio Moscow VIDEOS
String Trio Moscow PHOTOS
Create an elegant and sophisticated atmosphere with our talented String Trio Moscow. 
Highly professional, our three talented string musicians effortlessly create beautiful harmonious music with their violins. Creating an elegant atmosphere, our string ensemble is guaranteed to charm guests with their melodious compositions. 
Just as visually impressive as they are enchanting to listen to, our event violinists' playing technique and dynamic style create a striking focal point in any event setting. 
With a vast repertoire spanning a number of musical genres from classical to contemporary, our violin trio is able to accommodate almost any event style and energy. 
Create a soft, ethereal atmosphere with light ambient classical music from Schubert, Tchaikovsky, Handel, and Vivaldi. Our talented event violinists' innate musicality is able to create a dreamlike quality perfect for a refined drinks reception, elegant soiree or wedding ceremony. 
Also fantastic for building drama and energy, our talented violin trio can play more lively classical pieces with commanding presence for a captivating performance. 
Opening up strings to new audiences, our string ensemble also boasts a huge number of contemporary hits among their repertoire for a fresh, modern and engaging show. Young audiences will revel in hearing their favourite rock anthems reinterpreted with innovative string compositions. Expect to hear renditions from the likes of David Bowie, The Beatles, Bruno Mars, and David Guetta among many, many more.
Available as a quartet as well as a trio, add an extra musician for even more impact and a fuller sound. 
Only after one performer? Our talented female violinist is an experienced soloist, as well as able to perform as a due alongside a pianist. 
Highly versatile, our String Trio Moscow will work with you to create the perfect line up, set list and atmosphere for your event. Professional and experienced, you'll be in safe hands will our fantastic string musicians. 
Just one of many event violinists we hold on our roster, discover more of our string ensembles. 
To book this stunning violin trio for your next event and impress your guests with their mesmerising performance, get in touch with our dedicated team of Entertainment Experts.