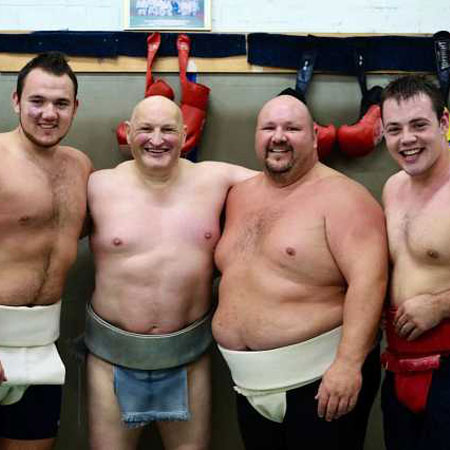 Sumo Wrestlers
Professional sumo wrestlers will bring fun & excitement to your event
Part of the official governing body of Sumo in the UK, recognised by Japan
Award winners in the World & European Championships
Available for demonstrations, photo opportunities, TV, film & PR work
Based in the UK & available to perform at events worldwide
These professional sumo wrestlers are part of The British Sumo Federation, the official governing body of Sumo in the UK, which is recognised by Japan, the European Sumo Union and the International Sumo Federation.
Sumo wrestling is a full-contact sport where each competitor attempts to force the other out of a circular ring or into touching the ground with anything other than the soles of their feet. Originating from Japan this traditional sport is now practised professionally all over the world.
Giving high calibre demonstrations of their incredible discipline, skill and determination, these sumo wrestlers have all won medals at the World and European Championships and are some of the best sumo wrestlers in the UK. Appealing to a wide range of audiences they will be a hit with spectators at your event as they create an atmosphere of fun and excitement.
Available for photo opportunities, demonstrations, TV, film and promotional work solo or as a group, these sumo wrestlers are ideal for sporting events, half time entertainment, themed events, shopping centres and cultural events.