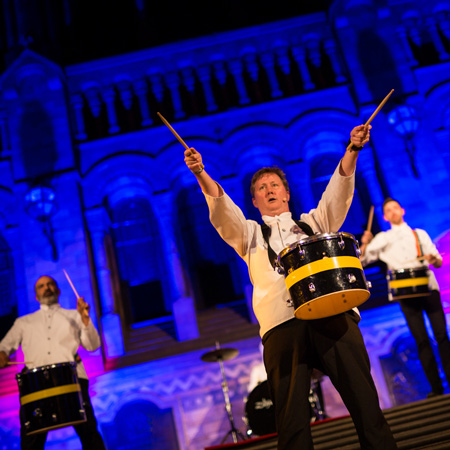 Surprise Drumming Waiters
The Surprise Drumming Waiters drum up a storm at any event with their dynamic beats and charismatic performances
Surprise waiters perform with kitchen utensils and drums to create fascinating and impressive sounds and beats
They also offer guests fun musical instruments to encourage audience participation, perfect for energising and refreshing guests
Previous clients such as BT, Microsoft, Adidas and Carlsberg have booked them to provide a unique form of branded entertainment
The surprise drumming waiters are based in the UK and available for worldwide events
Surprise Drumming Waiters PHOTOS
The Surprise Drumming Waiters provide surprise after dinner shows in a fresh, highly animated and innovative way. The Surprise Drumming Waiters drum up a storm at any event with their dynamic beats and charismatic performances.
Using a whole host of instruments ranging from cooking utensils to water butts, the surprise waiters create a vibrant and uplifting atmosphere full of joy, humour and energy. 
Unique Surprise Waiters After Dinner Show
Disguised as ordinary waiters and helping to serve dinner guests, the first waiter starts to clap a rhythm that is picked up by the others. The surprise waiters produce saucepans, trays, kitchen utensils and drums to create fascinating and impressive sounds and beats as the drummers wind their way around the audience towards the stage.
With expertly choreographed moves, a variety of drums and percussion instruments and some familiar rhythms, including 'We Will Rock You' and 'In The Air Tonight', audiences quickly become caught up in the fun rhythmic atmosphere. 
Audience Participation to Energise Guests 
They also offer fun musical instruments to encourage audience participation such as boom whackers and bongos for guests to play along on.  Audiences will quickly be turned into a wonderful sounding musical boom whacker orchestra in a very short space of time. 
Perfect to awaken guests as an after dinner show or equally as a conference energiser, this lively show with plenty of audience participation, is a great way to wake up, enliven and refresh guests who may be sitting at the same place for some time, creating a fun and enjoyable atmosphere that brings a smile to the faces of all guests.
Offering Bespoke Branded Entertainment
Available in a lineup from as few as two performers to twenty or even more, this surprise waiters act always creates an uplifting atmosphere at any occasion. Also offering unique branded entertainment, the drummers and drums can be personalised with your company logo to promote your brand and to draw attention to your brand message. 
Previous corporate clients who have booked the surprise waiters to provide branded entertainment at their events include BT, Microsoft, Adidas, Rolls Royce, Carlsberg, Volkswagen, Heineken, Nationwide, EE and many more.
The Surprise Drumming Waiters' performances are perfect many different types of event, from product launches to conferences, festivals, sporting fixtures, gala dinners and weddings. 
To find out how to add a unique surprise element to your after dinner show, contact our team of Entertainment Specialists. 
Adidas
Aston Villa FC
British Par 3 Championship
Cambridgeshire Advisory Service
Carlsberg
Go Skills
Heineken
Ince & Co
Metrorail
Molnlycke
Nationwide
Pfizer
RWE
Rolls Royce
Swatch
Vodaphone
nPower
AET Tankers
Arts & Business Cymru
BT
CABI
Canon
EE
Grosvenor House
Home Start
MSN
Microsoft
National Australia Bank
Nexans
QPR FC
Rating Surveyors Association
Rosenblatt Solicitors
Tiger Balm
Volkswagen
...and many more!
Accor Hotel Group
" We have had nothing but positive feedback from Friday evening! Everyone left the evening in a vibrant mood and we loved it! "

Lesley Cannings - Ince & Co. International Law Firm
" They did a fantastic job, pitched perfectly for the audience, and not in the easiest of venues. The number of mentions you've had in the last 24 hours has been countless and I will carry the image of smiling faces around the room with me for some while. "

Jonathan Crookall - Specsavers
" They did a great job, it was really good fun and I was amazed at how energetic the performance was – everybody loved it! "

Claire Peakman - Aston Villa Players' Awards Ceremony Organiser