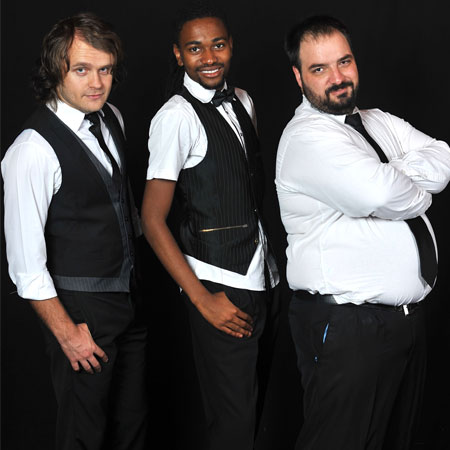 Surprise Singing Waiters Africa
A unique rat pack style surprise singing waiters performance!
Performance will have guests on their feet, dancing & singing along
Characters, scenarios & songs can be tailored to meet your needs
Creates an exciting Las Vegas feel at gala dinners, launches, private events…
Based in South Africa & Available to perform at events worldwide
This is a surprise act with a difference! Forget undercover waiters bursting into operatic song and singing impressive arias, this surprise performance has a jazz twist that will add that famous rat pack style and Las Vegas feel to your event!
The act begins with your Head Waiter, a flamboyant New Yorker, announcing that there may be a small problem… Frikkie a stern looking Health and Safety Officer has arrived and he is threatening to shut down the event! During their confrontation they both realise that they have something in common and something altogether surprise and exciting happens – they break into song, in true rat pack style! 
That isn't the end of the problems though, the valet who has been assisting guests in the car park interrupts the show to announce there is a problem and promptly breaks into a hot tap dance routine unlike anything you have ever seen before!
From here on out the show just gets better and better with renditions of favourite jazz classics never failing to get guests on their feet, swinging and dancing along.
The scenario, characters and songs can all be tailored to suit your specific event, ensuring that you and your guests have the time of your lives!