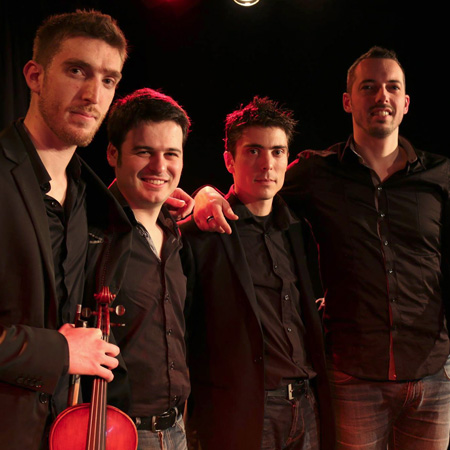 Swing Band Nantes
A gypsy jazz inspired swing band with a modern edge
Composed of talented musicians with a genuine love for their music
Perform a mix of jazz/swing standards in the style of Django Reinhardt
Quartet consist of violinist, two acoustic guitarists and a bass player
Based in Nantes and available to perform at events throughout France
The Nantes based Gypsy Swing group is composed of professional musicians with a genuine love for their music. Performing as a quartet, the group consist of one violinist, two acoustic guitarists and a bass player. Primarily influenced by the legendary Gypsy guitarist Django Reinhardt, the band perform a mix of jazz/swing standards and original compositions.
Their lively Gypsy Swing/jazz music brings gusto, passion and fun to every event!  Available to perform at events throughout France, the band are in huge demand with weddings, cocktail parties, bars, festivals and corporate events.
If you wish to find out more and discuss all of the best available options for you, please don't hesitate to contact one of our team who will be happy to assist you with the choice that suits you. 
All of me
Anniversary song
Anouman
A night in Tunisia
Autumn leaves
Beautiful love
Bei mir bist du schon
Belleville
Bernie's tune
Blue drag
Blues Clair
Blue skies
Caravan
Confessin'
Coquette
Daphné
Dinah
Dinette
Djangology
Django's Tiger
Double Whiskey
Douce Ambiance
Donna Lee
Duke dukie
Dream of you
Exactly like you
Fleche d'Or
For Sephora
Honeysuckle rose
How high the moon
Hungaria
I can't give you anything but love
I'll see you in my dreams
I love you
In a sentimental mood
It had to be you
I've found a new baby
J'attendrai
Jingles
Joseph Joseph
Les yeux noirs
Limehouse blues
Lullaby of birdland
After you've gone
Made in France
Manoir de mes rêves
Mélodie au crépuscule
Ménilmontant
Micro
Minor Blues
Minor Swing
Mire Pral
My melancholy baby
Night and Day
Nuages
Nuits de Saint-Germain-des-Prés
Out of nowhere
Place de Brouckère
Porto Cabello
R vingt-six
Shine
Si tu savais
Softly as in a morning sunrise
Stompin' at Decca
Spain
Speevy
Strange eyes
Sweet georgia brown
Sweet Sue
Swing 39
Swing 41
Swing 42
Swing 48
Swing gitan
Take the A train
Tchavolo swing
Tears
Them there eyes
There will never be another you
Topsy
Troublant Boléro
Valse pour Masha
Webster
Well you needn't
What is this thing called love
What kind of friend
Mabel