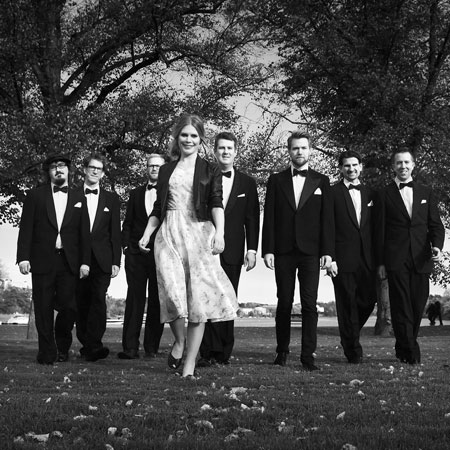 Swing Band Stockholm
A classic, elegant & highly sophisticated 8-piece Swing Cover Band
Play a classic swing/foxtrot-repertoire, with a hint of bossa nova & blues
A handsome bunch, all dressed in striking tuxedos and vintage clothing
Perform a broad range of music that spans the 1920's through to the 1950's
Based in Stockholm & available to perform at events worldwide
Swing Band Stockholm PHOTOS
Swing Band Stockholm are an elegant and sophisticated 8-piece band who play a classic swing/foxtrot-repertoire, with a pinch of bossa nova and blues.
Dressed in striking tuxedos and vintage clothing, this handsome bunch perform music that spans the 1920's through to the 1950's, from artists such as: Frank Sinatra, Michael Bublé, Ella Fitzgerald, Nathalie Cole, Glenn Miller, Diana Krall and many more.
Having performed at weddings and dance events across Stockholm, our professional Swing Band are just as happy to perform at a sit down gala meal as they are a wedding reception, private party or drinks reception.
Consisting of 8 professional musicians, including an amazing singer, guitar, piano, drummer, doublebass trumpet, trombone, saxophone and flute, Swing Band Stockholm promise not to disappoint.