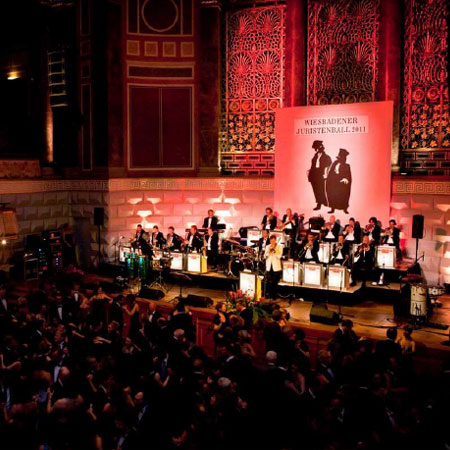 Swing Big Band
17 piece world class big band performing swing, ballroom, disco & pop
Varied repertoire, enthusiasm & spontaneity sets the Big Band apart
Performed at big events in Germany, The Netherlands and Belgium
Previous clients include BMW, Mercedes Benz, SPAR International...
Based in Germany & available to perform at events worldwide
This Swing Big Band livens up the ballroom and inspires with musical perfection and a varied program.  The repertoire reaches from big band swing of the 30-ties and 40-ties, standard ballroom and Latin style dances up to disco and actual pop charts. The singers interpret classis songs of Frank Sinatra, Nat King Cole, Charles Aznavour as well as world hits of Gloria Gaynor, Gloria Estefan and many others.
With its 17 professional musicians and two singers under the direction of trombonist and arranger Jack Coenen, this band works internationally as a first class dance orchestra and plays on top-events in Germany, The Netherlands and Belgium.  Because of the band's international fame it was invited to play at the millennium celebration of the German government in the Reichstag in Berlin.
Herbstball Aachen 2012
- Closing Gala of the EURO FINANCE WEEK Alte Oper Frankfurt am Main Germany
- Gala of the Chamber of Commerce Ostwestfalen Lippe e.V.
- Gala of the Wiesbaden Advocate Society
VITA Charity Gala Wiesbaden 2011 and 2012
Millenium Gala of the German Government Reichstag Berlin
De Roma Anwerpen
Maastricht Exhibition and Congress Centre MECC
Concertgebouw Amsterdam
Club Panama Amsterdam
Theater Namur Belgium
The Westerkerk Amsterdam
Regus Group Mossel Award Gala Vreeland
Wilgenhaege Vermogensbeheer BV
BMW Belgium
Radio-Television Stein
The European Fine Art Fair TEFAF
Wirtschaftsjuniorenball Saarbrücken 2012
Benefizgala 2010 and 2012
Ball der Witschaft Bielefeld 2010 and 2011
Wiesbadener Juristenball 2009 und 2011
Theaterball Freiburg Germany 2002 and 2012
Glenn Miller Birthplace Festival 2003 2006 and 2008 Clarinda IA
Stadsschouwburg Leuven
Exhibition Show "Frankfurter Messe"
Preuvenemint Maastricht
Ridderzaal Binnenhof Den Haag
Theater De Roma Antwerpen
Albert Hall Brussels
Beurs van Berlage Amsterdam
Zadelhoff Real Estate
Mercedes Benz Belgium
SPAR International
Casino Hohensyburg Dortmund Germany
Sommernacht der Rose Bad Neuenahr Germany
- Gala of the Chamber of Commerce Saarland