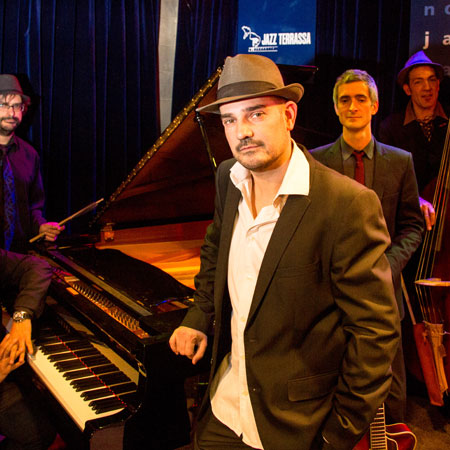 Swing Jazz Band Barcelona
A formation that play Swing & Jazz standards with a warm & elegant sound
Can perform as a trio, quartet or sextet Band depending on the event
Repertoire & tempos selected to please both swing dancers & jazz lovers
Also offer the possibility of partaking in a fun Lindy Hop Dance workshop
Based in Barcelona & available to perform at events worldwide
Swing Jazz Band Barcelona VIDEOS
Swing Jazz Band Barcelona PHOTOS
Swing Jazz Band Barcelona are a Jazz formation that play Swing & Jazz standards with a warm and elegant sound. Their repertoire and tempos are selected to please 100% both swing dancers and jazz music-lovers.
The group can adapt the band to suit the needs of any particular event: whether trio (voice, piano/guitar and double bass), quartet (+drums) or a full quintet or sextet band with saxophone or clarinet. All the artists are musicians with a lot of experience in the world of jazz, manouche, swing, soul and black music.
The Swing Jazz Band Barcelona was born in the spring of 2012 at the Bohemian Jazz Club at San Cugat (Barcelona), out of a jam session where its components discovered their full passion for jazz and swing, and prepared a repertoire adapted to swing dancers of all levels with the aid of professional Lindy Hop teachers.
Since then, the band has performed in numerous parties and festivals, such as the Festival Bellaterra, the Swing Night at the Barn d'en Greg, the picnic Jazz & Swing and the Christmas Swing Party at Sant Cugat and also at the luxurious Mandarin Oriental Hotel, Barcelona, with the exquisite atmosphere of its Gin & Live Sessions at Banker's Bar.
The band offer alternative choices alongside their standard performance, including
The Lindy Hop Workshop:
The band offer the possibility to experience the basics of Lindy hop dance, with a fun workshop given by two professional dancers at the beginning of the show.
Piano & Voice Duo for intimate Jazz:
For black tie or more intimate events, their soft Jazz Piano & Voice Duo can be the most appropriate choice, as they have performed at the Mandarin Oriental Blanc Brasserie throughout 2013 and 2014.