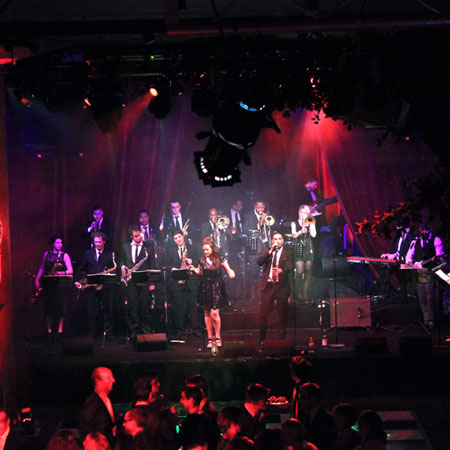 Swing Orchestra
Classiest Swing Band in the business with an impeccable 12-20 piece lineup
Have performed and recorded with most of the major artists of our time
Entertain with rich, lively arrangements of swing band standards
They are as good to watch, as they are to listen to
Based in London and available to perform at events worldwide
The classiest Swing Band in the business, these performers are perfect for a Great Gatsby or James Bond themed event.
Their experienced, energetic players perform favourite swing classics to get any party, wedding reception or corporate event swinging. This 12-20 piece Swing Band has an impeccable line-up of string quartet, vocal duo, live band and horn section.
The Swing Orchestra entertains with rich, lively arrangements of swing band standards by Glenn Miller, Frank Sinatra, Louis Armstrong, Nat King Cole and the Rat Pack. Songs by modern day swingers such as Robbie Williams and Michael Bublé also make an appearance in this all-star line up. Their accessible, popular set can include film themes, musicals and song, from Phantom of the Opera and Porgy and Bess to The Pink Panther.
What makes this Swing Orchestra unique is the dynamism of the performance; they're as good to watch, as they are to listen to. Unlike many function bands or wedding bands, the Swing Band really engages with the audience from the first note to the last.
Their youthful players stand up so you can appreciate their skill; the horn and string section sway to the beat for a performance with energy, passion and style. The male and female vocalists look great and sing superbly.
All musicians have an amazing pedigree, and between them have performed and recorded with most of the major artists of our time. Several of the Swing Orchestra Band members featured in Stephen Poliakoff's BBC drama series 'Dancing On The Edge', about a black jazz band's rise to success in 1930s London (the Louis Lester Band).
The Swing Orchestra is also available with celebrity performers including Stefan Booth, who took a leading role in both Eastenders and Chicago the Musical on the West End and Steve Brookstein (winner of the first UK X Factor).
This set can also be accompanied by Britain's Got Talent superstar dancer Joseph Hall, who WOWed judges and the public alike with his astonishing dancing skills.
Jaguar
IBM
Chivas
Skype
Pride of Britain Awards
Monaco Grand Prix
Tommy Hilfiger
And Many More
HSBC
Mercedes-Benz
Audi
Regal
Google
London to Paris Bike Ride
Cannes Film Festival
Ministry Of Sound
Landrover
" So many people played a part in making it such a special night, including yourselves. I wanted to therefore take this opportunity to say a huge thank you for providing such wonderful music which was enjoyed by everyone. "

Private Client, Chester 2012
" The musicians are superb and the management team are professional and delightful to deal with. Many thanks. "

Kate Denston, Rare Food Events, Wedding at Kew Gardens 2013