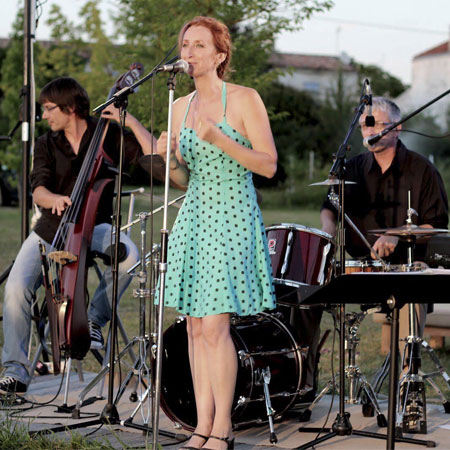 Swing Sextet Bordeaux
Performs a tasty cocktail of swing, blues, boogie woogie and jazz
Will transport guests back in time with a repertoire of classic swing jazz
In huge demand with corporate events, weddings and private parties
Available from a duo to a sextet
Based in Bordeaux and available to perform at events throughout France
Swing Sextet Bordeaux VIDEOS
Swing Sextet Bordeaux PHOTOS
This Bordeaux based band offers a tasty cocktail of swing, blues, boogie woogie and jazz!  Playing Swing Jazz classics by the likes of Louis Prima, Louis Armstrong, Ella Fitzgerald, Nat King Cole and Louis Jordan, this sextet will transport guests back in time with their performance of all time greats from the Swing Jazz era.
This versatile group are available from a duo to a sextet and are in huge demand to perform at corporate events, weddings and private parties throughout France. They also do a show dedicated to swing music with a mixture of dancers and musicians. Dances including the Lindy Hop, Swing, Acrobatic Rock, Cabaret and Burlesque can be incorporated into performances to really add the wow factor to your next event.
To find out more get in touch with our team of Entertainment Experts.
Route 66 - Nat King Cole
Fever - Louis Prima
Hit That Jive Jack - Nat King Cole
Frim Fram Sauce - Ella Fitzgerald / Louis Armstrong
Cheek to Cheek - Ella Fitzgerald / Louis Armstrong
Unforgettable - Nat King Cole
My Baby Just Cares for Me - Nina Simone
I Love You (for Sentimental Reason) - Nat King Cole
Autumn Leaves - Standard
Straighten up - Nat King Cole
Miss Celie's Blues - Quincy Jones
Hallelujah - Ray Charles
Banana Split - Louis Prima
Stompin' at the Savoy - Ella Fitzgerald / Louis Armstrong
Manhattan - Stacey Kent
Sing Sing Sing - Louis Prima
I Won't Dance - Ella Fitzgerald / Louis Armstrong
Quizas Quizas Quizas - Nat King Cole
Shall We Dance - Stacey Kent
Gee Baby Ain't I Good to You - Diana Krall
L.O.V.E. - Nat King Cole
I Wish You Love - Standard Buona Sera - Louis Prima
Just a Gigolo - Louis Prima
Jump Jive 'n' Wail - Louis Prima
Oops - Ella Fitzgerald / Louis Armstrong
Airmail Special - Ella Fitzgerald
Peel Me a Grape - Blossom Dearie
Too Darn Hot - Ella Fitzgerald
It Had to Be You - Tony Bennet
Dream a Little Dream of Me - Ella Fitzgerald / Louis Armstrong