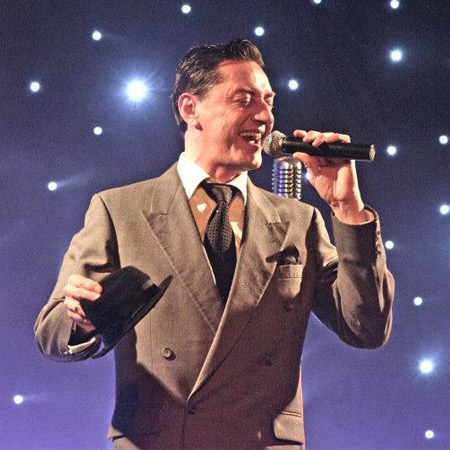 Swing Singer Zac
Warmth, personality, natural humour compliment the magnetism of his voice
Strong vocal impressions of all the Rat Pack artistes
Previous performances in Dubai, Las Vegas, The Caribbean & Europe
Popular for corporate shows and wedding entertainment
Based in South West England & available to perform at events worldwide
Blessed with an extraordinary talent, Zac is an entertainer in every sense of the word.  He possess that unique ability to bring his audience to him.  His warmth, personality, and natural humour are very much key factors and they compliment the magnetism of his voice.
His swing show can be described as One man, A bottle of Jack, and the most memorable songs of Nat King Cole, Bobby Darin. and The Rat Pack.  This Swing Show is effortlessly linked with gentle humour and incorporates a lightning fast costume change. The show can be performed in various different formats to suit client or venue with dots or live recorded backing tracks.
Many may sing the same songs as Zac but few package them in such a way that you feel you are there in Vegas at The Sands Casino, one minute you are snapping your fingers to the swinginest version of Mack the Knife, next your wiping a tear away from the passion of Bojangles, and One for My Baby. Strong vocal impressions of all the artistes and the incredible pathos of the final song Bobby Darins The Curtain Falls, makes this the one to book.
An experienced professional Zac is completely at home in Cabaret, Hotels, at Corporate and Masonic Functions, onboard Cruises, and in Theatre and Television.  He has performed in Dubai, Las Vegas, The Caribbean, and all over Europe.  In January 2008 Zac performed for MP's at The Showmen's Guild of Great Britain Parliamentary Dinner Westminster London.
Other Notable Credits include various vocal appearances on Sky One, corporate launches for British Telecom and O2, and Cruise performances for Ocean Village & Bolero.