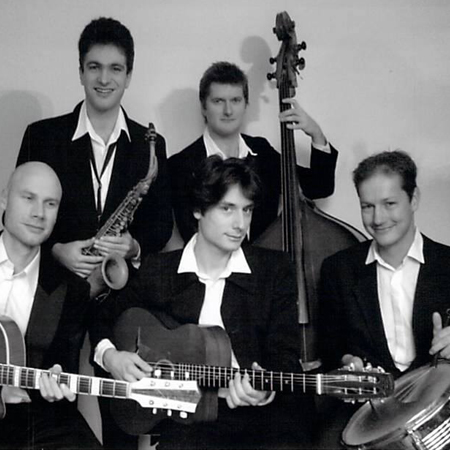 Swinging Jazz Band
Range in mood from heavy dance floor rhythms to laid back music
Provide a variety of swing, gypsy jazz, bebop, French Chansons and more
Can be seen and heard on TV, radio and in a wide variety of venues
Perform a broad range of sophisticated music to entertain the masses
Based in Holland and available to perform at events worldwide
Swinging Jazz Band PHOTOS
Providing a dynamic and diverse range of sounds our Swinging Jazz Band perform a broad range of sophisticated music to entertain the masses at events worldwide.
Ranging in mood from heavy dance floor rhythms to laid back and relaxed, their music varies from swing, gypsy jazz, bebop and klezmer, French Chansons, Dutch Jazz songs and more!
In high demand at a events internationally the ensemble can be seen and heard on TV, radio and in a wide variety of venues. In 2002 they played on the Montreux Jazz Festival and for the second time on the North Sea Jazz Festival.
Creating the perfect upbeat atmosphere at your business reception, party and intimate dinners, Swinging Jazz band will cater for all ages and musical tasted with their dynamic repertoire.
Contact us today to find out more!