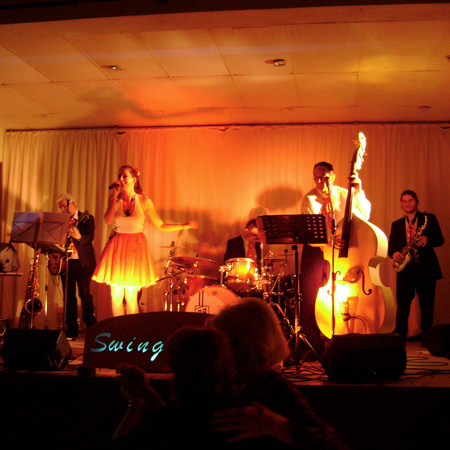 Swinging Soul
Swing & Jazz band available from 2-8 pieces. 1950s show also available
Performing together for over 10 years at weddings & private parties
1950s show can include dancers & includes Boogie, Rock & Swing
Popular for wedding drinks receptions
Based in South West France and available to perform worldwide
Based in South West France, this versatile group of musicians have been performing together for over 10 years and their repertoire includes a range of musical styles including Swing, Jazz and Latin to suit the occasion!
SwingingSoul is available with two to eight performers, depending on budget or venue size, and can include a singer and tap dancer.  This act can also put on a themed 50's show to include Boogie, Rock and Swing.
SwingingSoul are an ideal choice for private parties, weddings and corporate functions.
On the sunny side of the street
Bébé d'Amour
St Louis Blues
Sweet Georgia Brown
Rose de Piccardie
It don't mean a thing
Blue suede shoes
What a wonderful world
Oh when the saints
Les copains d'abord
Basin street Blues
It's only a Papermoon
I can't give you anything but love
St James Infirmary
A credit et à stereo
El Gato montes
E viva Espana
Le plus beau Tango
Adios Muchachos
La Java bleu
Padam
Guantanamera
Quizas
Vielle canaille
Suzette
Besame mucho
Hello Dolly
Armstrong
Beau Roman
Emmenez moi
la valse Marseillaise
Cactus
Jamin
Antoine
Pas de Boogie Woogie
Morena
Bucaro
Tango Corse
Tel qu'il est
Somewhere over the rainbow
Jailhouse rock
Summertime
It don't mean a thing
Tutti frutti
Rock around the clock
Let's twist again
Fly me to the moon
Tico Tico
Historia d'un amor
Orfeo negro
All of me
Sweet home chicago
La bamba......
Champs Elysee
Avignon
Carpentras
Campsites
Bars
Birthdays…
A lot of Town Councils:
Nice
Mulhouse...
Lions Club of Nîmes
Restaurants
Private parties
Draguignan