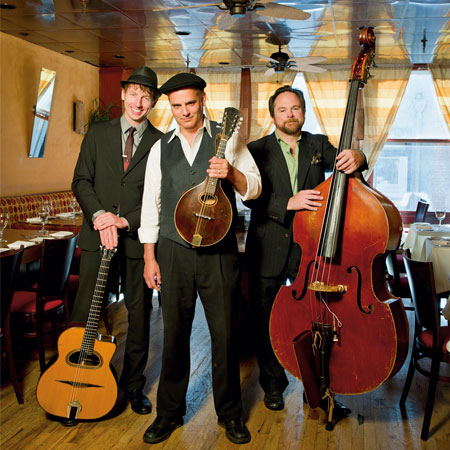 Swinging Trio San Francisco
A charismatic singing trio on mandolin, guitar and bass
A mix of romantic and eclectic melodies from all over the world
Have performed for President Clinton and Anne Hathaway's wedding
Create a fun atmosphere for people to relax and celebrate in
Based in San Francisco and available to perform at events worldwide
Swinging Trio San Francisco PHOTOS
Based in California, The Swinging Trio is led by charismatic front man Michael, who plays the mandolin/vocals and features guitarist/vocalist Jason and bassist Joe Jr. Together, they play music for "la dolce vita": a mix of romantic and eclectic melodies from all over the world.
During a Swinging Trio performance you might hear Pop, Jazz or Folk, Classical, Rock, or Opera, the music of Brazil or of Europe's cafes, (not to mention some of their own dramatic original pieces); and all of it re-imagined so you will hear the melodies you love (or didn't know you loved) like new again.
The trio have played events both big and small including parties for President Clinton, Gen Colin Powell, and Anne Hathaway's wedding; they love to and create a fun atmosphere for people to relax and celebrate in.
Their music is both interesting enough to engage listeners and light enough to serve as a soundtrack for your guest's interactions. They love to play events and create a fun atmosphere for people to relax and celebrate in and are happy to accommodate all requests with a little notice!
The Swinging Trio can adjust their line up to suit your events needs by adding extra musicians such as horns, accordion, drums and female vocalist. For smaller events they can also work as a duo with the mandolin and guitar as well as working with belly dancers, swing dancers and tango performers.
I Will – The Beatles
Chiquitita – ABBA
Minor Swing - Django Reinhardt
Girl from Ipanema – Jobim
Crazy Love – Van Morrison
Isn't She Lovely – Stevie Wonder
Smells Like Teen Spirit – Nirvana
Wonderful World – Louis Armstrong
Miserlou – Greek
Dream – Everly Brothers
O Sole Mio – Italian
Goodbye Yellow Brick Road – Elton John
Fly me to the Moon – Sinatra
Don't Ask Me Why – Billy Joel
Runaway – Del Shannon
Can Take My Eyes Off Of You – Rudi Vale
Hotel California – Eagles/Gypsy Kings
La Vie En Rose – French
Godfather Theme – Italian
Heart of Gold – Neil Young
Killing Me Softly – Roberta Flack/Fugees
Walking After Midnight – Patsy Cline
Thank You- Led Zeppelin
Call Me – Blondie
That's Amore – Dean Martin
Besame Mucho- Spanish
Dancing Queen – ABBA
I'm No Good – Amy Winehouse
My Prayer – The Platters
Stayin' Alive – The Bee Gees
Unforgettable – Nat King Cole
C'est Si Bon – French Swing
Save the Last Dance For Me – the Drifters/Gypsy Kings
Get Lucky – Daft Punk
Moondance – Van Morrison
" You guys were SO GREAT! I was so glad to get to really HEAR you that night. We will be pitching you a lot more this year. I've told my staff that you're the bomb, and to make sure all of our clients know why! "

Band Agent
" We were overwhelmed by the love and joy that was present that day and your band was such a special part of that. I'm so happy that you were there, your music could not have been a more perfect fit to creating the vibe that we were wanting. Everything far surpassed what we could have imagined. "

Bride
" The band was great. The folks really enjoyed them. They were very interactive with the group. On time and just all around fun. "

MP – Event Producer, Silicon Valley
" Thank you for the amazing job! You were all perfect perfect perfect! I loved every second of music I heard and it really made my wedding day super special. Keep making your beautiful music! "

Bride