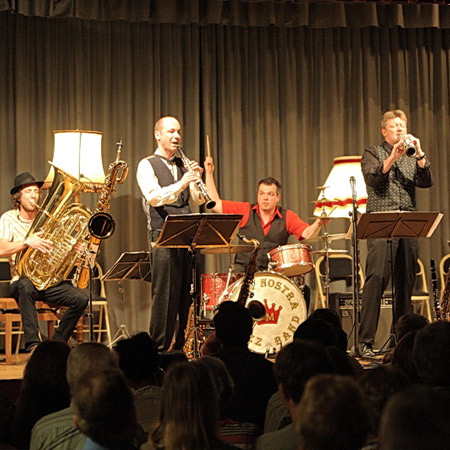 Swiss Jazz Band
High energy and toe tapping Jazz band- designed for dancing
Performed at the Montreux Jazz Festival & won the 16th Megève Jazz Contest
Repertoire borrows the intricacies of New Orleans, Dixieland jazz & Blues
Popular at corporate events, jazz festivals, weddings, cocktail parties...
Based in Switzerland & available to perform at events throughout France
This Switzerland based Jazz Band consist of Marc (clarinet and saxophone), Andrea (trombone), Theo (drums), Alain (tuba) and Pierre (banjo and guitar).  The group draws its repertoire and its influences from New Orleans Jazz, a time during which the prohibition was raging in Chicago and New York.
Founded in 2003, The Jazz Band has performed at many concerts in the Suisse Romande, including "Montreux Jazz Festival", "La Longeraie" in Morges, "Cully Jazz Festival", the famous Lutry Jazz Club, "Bérojazz" St-Aubin (NE), to "Estival Jazz" from Landeron (NE), the festival "Jazz on the Beach" Hermance (GE) and various other jazz clubs. Not to mention a brilliant 1st place performance in the 16th Megève Jazz Contest (France).
Their repertoire borrows the intricacies of New Orleans, Dixieland and Blues. Influenced by their different musical route, but united by the same passion for Jazz, these young musicians exude a rare quality of music, full of life and good humour.  This New Orleans Jazz-band have performed for many high profile corporate clients and are available to entertain at corporate events, jazz festivals, weddings, cocktail parties, gala evenings and conferences throughout Switzerland and France.