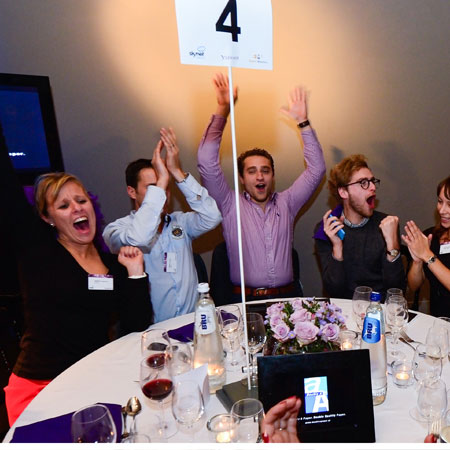 Team Building Talent Game
Get to know your company with team building exercises set to test your cerebral, physical & creative strengths
Delegates will learn key skills including delegation, leadership, time management & problem solving
Team building games can last between 60 and 90 minutes & each team can have 6-10 members
Previous clients include Coach, L'Oreal, Google, Adidas, HSBC & SONY
Available for events in Hong Kong & worldwide
Team Building Talent Game PHOTOS
Book team building entertainment for corporate team building events from Scarlett Entertainment Asia.
Based in Hong Long and available to work worldwide, this company team building activity has won over delegates from numerous high profile brands including Google, Adidas, HSBC and L'Oreal. 
Aiming to test the different attributes that make up a successful and productive working team member, our team building game is comprised of three parts. Challenging contestants cerebral, physical and creative facilities, the fast and furious challenges help team members to learn more about their colleagues and the importance of skills like leadership and delegation.
Lasting between 60 and 90 minutes, contestants compete in the talent team building competition but forming teams of 6 to 10 members and participating in the challenges that most suit their own skill-set. 
Taking place on tablets, the team building activities get progressively harder, ending in a final race to the finish line. 
Key Skills Learned:
- Effective delegation
- Leadership
- Creativity
- Problem Solving
- Team Dynamics
- Time Management
A highly entertaining and challenging tablet team building game, delegates will end the day feeling as if they have learnt more about themselves and their colleagues. For more information about the range of team building activities and workshops offered by Scarlett Entertainment Asia, please don't hesitate to contact our office today. 
TE Connectivity
Swiss Re
Travis Perkins
Google
LSG
Triumph
Shure Asia
L'Oreal
Coach
Adidas
HSBC
AXA
UBM
Montblonc
SONY
Fronterra
& many more
IHG
" The attendees not only had a lot of fun but also engaged to the fullest of their abilities. I would recommend them and certainly use them again in the future "

DEAN TILLBROOK, SAFETY & ENVIRONMENTAL, DP World
" The feedback from all participants was outstanding. For me as a participant, and an observer, it was clear that everyone thoroughly enjoyed the…activity. You guys really nailed the execution, a very well done job indeed "

AMIED SHADMAAN, FINANCIAL MANAGEMENT PROGRAM ASSOCIATE, General Electric