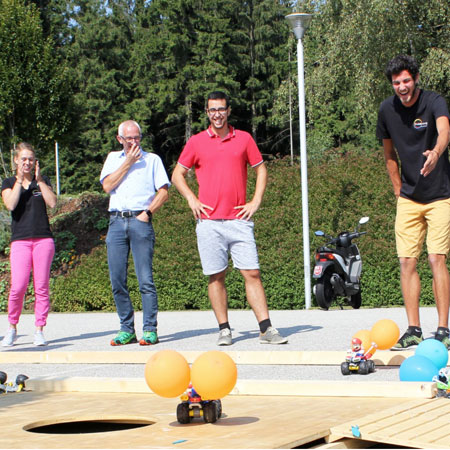 Team Challenge Vienna
Invite your party to take part in a corporate team building event to remember with our Team Challenge Vienna
Unique and innovative challenges that offer the perfect company team bonding experience
Offer your guests interactive team building to be talked about for weeks to come with our exciting challenges
Our custom designed challenges will offer your group a fun-filled and exciting team incentive trip
The ultimate team challenge for delegates, available throughout Austria, South Germany and Vienna
Team Challenge Vienna PHOTOS
Provide your guests with the ultimate interactive team building experience with our Team Challenge Vienna, also available throughout Ausria and South Germany. Ensure your corporate team building stands apart, providing your group with first-class company team bonding and a team incentive trip in Austria to be talked about for weeks to come. We create unique and innovative team building, combining fun, action and lots of excitement. 
Teams will be competing against each other, igniting their team spirit, incredible team dynamic, promoting fun and laughter along the way. Your group will be provided with the ultimate team building challenges in never seen before disciplines, offering the perfect company team bonding experience
Our exclusive team challenge will see your group split into teams to perform a variety of challenging experience building tasks. Each task represents a station which is completed by all teams in the cycle, allowing everyone to complete the team challenge simultaneously. At each station they will be professionally supervised by our experienced staff and will receive completion points.  The team with the most points will be crowned the winners of the Team Challenge.
Offer your guests memorable interactive team building with our custom designed challenges for a fun-filled and exciting team incentive trip. All of our team building challenges are intuitively developed and therefore absolutely unique, presenting enjoyable activities that will challenge your team, utilising on various team skills, promoting enthusiasm among team members along with communication, problem solving techniques and decision making. 
Our team challenges take place remotely so we can be entirely flexible, offering dynamic team building experiences everywhere in Austria and south of Germany. 
The ultimate team challenge to set your customised entertainment in Austria & South Germany apart!
Practical Tips 
Minimum persons - 10
Maximum persons - 400
Duration - 30 minutes up to 4 hours 
Team Challenges are carried out remotely, meaning we can travel to your given location. All we need is the space to be provided
Contact us at Scarlett Entertainment & Events today to talk about booking our Team Challenge Vienna for your corporate team day or personalised event in South Germany & Austria.