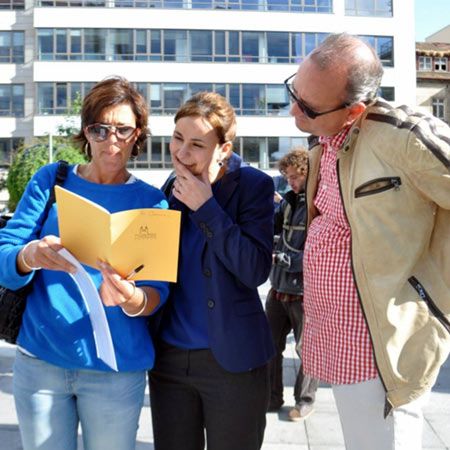 Team City Treasure Hunt
Allow your guests to embark on a sight seeing tour with a difference with our exclusive Team Treasure Hunt
Original team building activity that takes place on the streets of one the most beautiful cities in Europe, ideal for your customised entertainment
Our treasure hunt is designed to engage skills such as cartography, orientation, creativity & competitiveness
A unique & interactive way to get to know the beautiful city of Budapest, presenting a fun group challenge for your team incentive trip
Enjoy exploring historic streets & hidden places whilst solving a series of problems, challenges & performing various tasks!
Team City Treasure Hunt PHOTOS
Allow your guests to embark on a sight seeing tour with a difference with our exciting Team Treasure Hunt! Designed as a unique team building activity and fun group challenge for your team incentive trip, delivering the perfect solution to your customised entertainment Budapest. 
Ensure your company event stands out by offering your party a memorable excursion. Our uniquely designed City Treasure Hunt is an interactive way to get to know one of the most beautiful cities in Europe. The original quest combines fascinating historical facts, bizarre legends and stories, all in one game, taking participants through beautiful streets and hidden places. Your team will have to solve a series of problems using their teamwork skills in cartography, creativity, orientation, attention to detail and time management!
Our exclusive Team Treasure Hunt offers an exciting and unique way to discover the alluring city of Budapest, presenting a fun group challenge for your company rewards day or team incentive trip. 
We present our custom-made team building activity, inviting your guests to explore the streets of Budapest, a city with a special magic, timeless history and the most beautiful architecture. Our treasure hunt is a game offering versatility, intuitively developed to bring a focus of team work to all participants, combining intellectual and physical activity, an interesting game full of knowledge which will help you view Budapest from a different angle and keep your group entertained from beginning to end. 
After an introduction, your group will be divided into teams and given an information pack in order to complete tasks, followed by an explanation of the rules. Individual tasks are designed to utilise skills in areas such as orientation and creativity, with the quest designed to bring out an element of competition between team members!
Teams will walk through the historic streets of Budapest, among the most famous monuments as well as beautiful hidden places to solve a series of problems and challenges, answer carefully prepared questions, take photos and perform various tasks in the quickest time possible while competing with the other teams within your group. After completion, there will be awards presented to the winning team. 
With a focus on many of the fundamentals of company dynamics such as teamwork, shared responsibilities, good leadership, motivation and delegation skills, our Team Treasure Hunt is a must for your company event, allowing your corporate group to view Budapest as they've never seen it before. 
Present your party the perfect challenge - Team Treasure Hunt offers the ideal activity to test your groups teamwork skills in solving interactive tasks bringing a fun adventure and team building activity for your company excursion.
Our professional team of experts will prepare the game in detail while taking into account all of your personal requirements so that we can always guarantee a first-class service!
We offer the unique opportunity to prepare custom-made treasure hunts, working closely to your specific brief, delivering an outstanding team activity for your themed event, our expert team dedicated to providing the perfect solution for your customised entertainment and corporate hospitality in Hungary. 
Practical tips 
Duration - approx 4 hours
Lunch/dinner/drinks/bowling at a local restaurant/pub optional 
Min persons - 9 players
Max persons - 250 players
Customisation available on request
Contact us at Scarlett today to talk about booking our Team Treasure Hunt Tour for your corporate team day or personalised event.