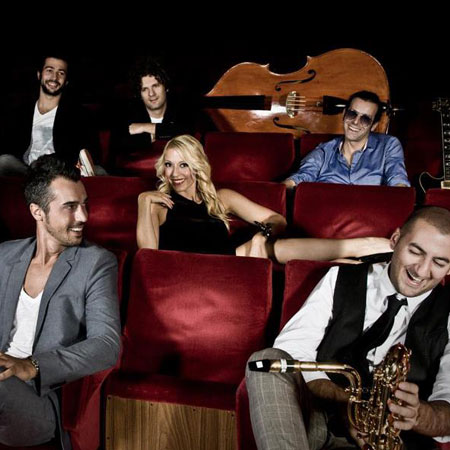 The Big Italian Swing Band
Sophisticated Big Band specialises in Swing, Jazz, Latin, Cha Cha, Mambo
Highly recommended for Corporate events and Concerts
Up to 14 piece line up with professional musicians
Male & female vocals
Based in Milan and available to perform Worldwide
The Big Italian Swing Band VIDEOS
The Big Italian Swing Band PHOTOS
This Swing Italian band uses inspiration from some of the biggest names in Swing and Jazz music including Frank Sinatra, Dean Martin, Sammy Davis Jr, Ella Fitzgerald and many other stars.
The band are more than just a 'tribute to the stars', they offer an original, dynamic and elegant show which includes the most famous songs in the history of Italian and international Swing, as well as classic and contemporary Jazz - with just a touch of Latin, and not forgetting the best of Cha Cha, Mambo and Rock 'n Roll.
With hundreds of performances for prestigious international clients, the band is made up of seven professional and esteemed artists, united to create a timeless show from the golden 50's era, revamped and revised in a style that is 100% uniquely Italian.
The band is available in different line ups, as a 7 piece version or as 9 to 14 piece band. It is also possible to add dancers.
Highly recommended and suitable for Gala Dinners and Big Corporate Events.
LULU'S BACK IN TOWN (1935 Dubin & Warren)
COME FLY WITH ME (1957 Jimmy Van Hausen and Sammy Cahn)
I'VE GOT YOU UNDER MY SKIN (1936 Cole Porter)
CHICAGO
WHY DON'T YOU DO RIGHT (1936 Joe McCoy)
LULLABY OF BIRDLAND (1952 George Shearing)
THEY CAN'T TAKE THERE AWAY FROM ME (1937 George Gershwin)
THE WAY YOU LOOK TONIGHT (1936 Kern & Fields) piano/voci
FOR ONCE IN MY LIFE (1967 Ron Miller per Motown Records)
MEDLEY ONESTO (Volare + Just a Gigolo + Evening in Roma + Carina)
PERHAPS
BLA BLA BLA CHA CHA CHA
MELANCHOLY BABY (1912 Brunett & Norton)
MAMBO ITALIANO (1954 Bob Merrill)
WHEN YOU'RE SMILING
STANDARD JAZZ INSTRUMENTAL
THE LADY IS A TRAMP (usciamo tutti!)
A FINE ROMANCE
AVEVAMO LA STESSA ETA' (1959 Calcagno – Marini
FANTASTICA (1959 Leo Chiosso per Fred Buscaglione)
NON TI FIDAR DI UN BACIO A MEZZANOTTE
NO JAZZ (1948 Natalino Otto)
SAMBA PER VINICIOUS (Ornella Vanoni)
WHISKEY FACILE (Fred Buscaglione)
CHE RITMO (Natalino Otto)
FLY ME TO THE MOON
SWAY
ANEMA E CORE
BESAME MUCHO
UNA ZEBRA A POIS
I DON'T KNOW WHY
THAT'S LIFE