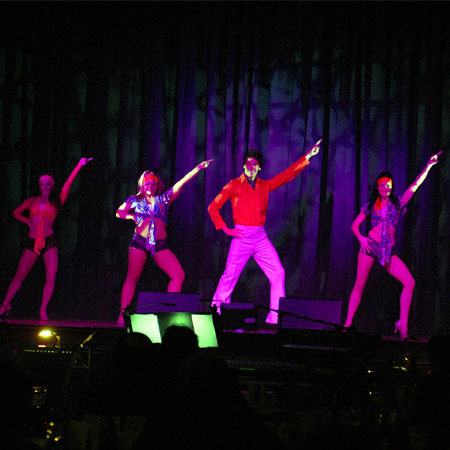 Through the Ages Dance Show
Incredible through the ages dance show for electrifying dance and music to suit any theme.
Generation dance show offers music, dance and spectacular entertainment from roaring 20's to 70's disco and 90's school reunion.
Bespoke decade dance show offers meet and greet, dance acts and musical performances for the ultimate in themed entertainment.
Stunning themed dancers have delivered show-stopping performances for BBC, Hilton, Merriott and many more.
Incredible dance show available for themed performances at events worldwide.
Bring a spectacular and unforgettable night of dancing through the ages to your event with our generation dance show. This incredible, glamorous dance show beings you the songs, dances and fantastic style of any decade of your choice. Perfect for creating a stunning themed night for any occasion, our extraordinary decade dance show offers a full and fabulous entertainment package to suit any event. Whether you want to re-live the boogying disco parties of the 70s or recreate a swinging 1920's cocktail reception, our versatile themed dancers take you through the ages with their fully immersive show. Offering a stunning range of entertainment including dancers, singers and roaming performers, this through the ages extravaganza is not to be missed. 
This sensational through the ages performance will take your guests back in time to a fabulous decade of music and dance of your choosing. From the moment your guests arrive they will be immersed in the theme of your events thanks to our brilliant meet and greet themed dancers who will dazzle guests with their authentic attire and pause for photographs to create a real buzz as your event kicks off.
From there our generation dance show will perform an authentic, electrifying show from the decade of your choice, whether it's a roaring 20's prohibition party, 50's rock n roll night, groovy 60's party, 70's disco, 80's retro revival night or 90's school reunion. This incredible decade dance show offers something for everyone with their incredibly versatile performances and costumes. Available for bespoke packages to tailor the entertainment exactly to your event's needs, don't miss your chance to book this incredible dance show. Featuring the best dancers and vocal performances from every decade and style, this dance show creates a performance for the ages. 
Contact our entertainment specialists to find out more!
" Thanks again for all your hard work and for making the Moonlight Ball Sue Ryder charity event very special indeed, including meeting and greeting our guests in the wonderful red feather girl outfits – a great touch! We loved the presence of your team throughout the evening and the performances were fab, very refreshing and charismatic – loved the vocals! You have a wonderful team and they are a real credit to you. "

Olsen Partnership for the Sue Ryder Moonlight Charity Ball
" They provided the opening welcome and dances at the BBC Generation Strictly event. The girls looked amazing in their dazzling costumes and were a real show stopper (or show opener in our case!). They gave the event a real wow factor and a really professional feel. "

BBC Radio WM