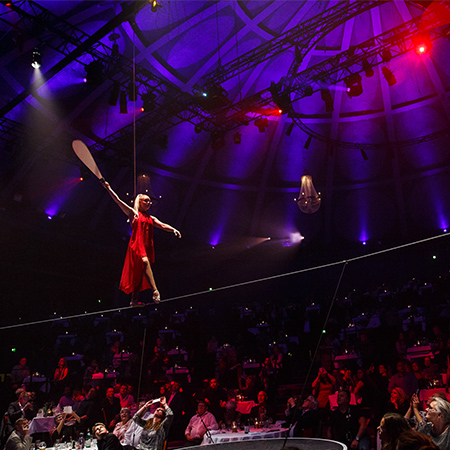 Tightrope Dancer
Talented and sophisticated female tightrope acrobat and former Cirque du Soleil performer
Tightrope walking specialist's routines are a display of flawless technique and exquisite elegance
Happy to fully customise her acts to fit your theme and perform alongside other artists
Popular circus entertainment for events such as gala dinners, after dinner experiences, award ceremonies etc.
This Tightrope Dancer is based in Helsinki and available for events in Finland and worldwide
Experienced female circus artist and former Cirque du Soleil performer, this Tightrope Dancer is an in-demand Finish circus specialist. 
This talented performer joined the circus school in her hometown at a young age and quickly fell in love with the circus in general and two disciplines in particular. That's how she became a tightrope walking specialist. 
Having performed worldwide with numerous circuses, our female tightrope acrobat has amazed international audiences with her stunning display of balance. Her acts are the perfect combination of tightrope walking, dancing and acrobatics. 
Showcasing flawless technique and exquisite elegance, our tightrope walking specialist always leave viewers in awe with her display of perfect balance. 
Performing impossible moves and stunts on top of the tightrope, this female circus acrobat walks, sits, jumps and dances without losing her balance. Happy to adapt her shows to fit your theme, she can wear costumes and different outfits to match the tone of your party. 
The ideal circus entertainment option for a variety of events, tightrope walking is especially suitable for gala dinners, after dinner experiences, award ceremonials, themed events, private parties, corporate dinners, and more!
Top Tip:
Our female tightrope acrobat always welcomes the opportunity to share the stage with other artists such as musicians or circus performers in order to create unique performances. She also performs hula hoop acts.
Scarlett Entertainment offers a wide range of circus entertainment for events in Finland and all across the world. 
If you would like to book this sensational Tightrope dancer for your upcoming event, then contact us today. Our dedicated team of Entertainment Experts will be delighted to answer all the questions you may have about this talented female circus artist and assist you in the booking process.