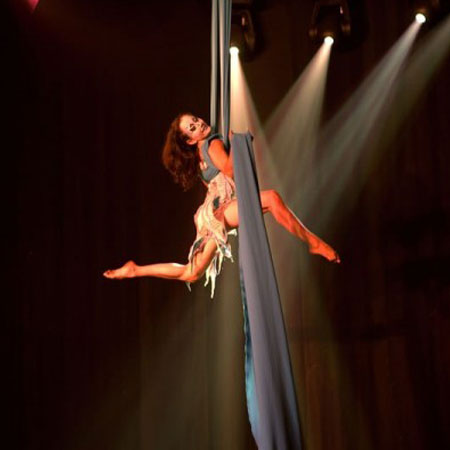 Tissu Aerial Silks
Beautiful aerial choreography & coloured silks will WOW audiences
Breathtaking drops & climbs, performed & choreographed to live music
Can be performed with 2 to 5 acrobats
Perfect for ceremonies, corporate events, theatre shows & festivals
Based in Amsterdam & available to perform at events worldwide
Tissu Aerial Silks PHOTOS
This stunning group of acrobats offer theatrical, colourful and original performances in the style of the new circus. All experience and professional acrobats their performances are incredible demonstrations of strength, flexibility and agility.
In this act, acrobats can perform as soloists or in a group of up to five. Each performance is meticulously choreographed to live music and performed using a range of beautifully coloured silks. Audiences will be left breathless as they perform stunning drops, twirls and climbs, moving effortlessly through the air. This stunning visual spectacle will be the highlight of your event.
The show can be fully customised, from the number of aerialists, to the colour of the silks, the live music and costumes. It can also be performed in combination with a number of different aerial apparatus.