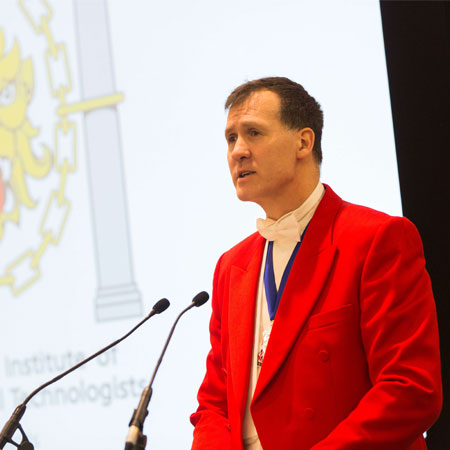 Toastmaster and Event Host
An experienced Toastmaster, Master of Ceremonies, Event Host, Auctioneer and Conference Facilitator
A trained actor and Presentation Skills Trainer he is confident, charismatic and able to command a room
Iconic red Toastmaster coat will add gravitas and style to any ceremony or special occasion
A Fellow of the Guild of International Professionals Toastmasters
Based in London and available to hire for international events worldwide
Toastmaster and Event Host PHOTOS
A professional Toastmaster, Master of Ceremonies, Event Host, Conference Facilitator and Auctioneer with over 30 years of experience, our London-based Toastmaster is dedicated to ensuring the smooth running of your event - whatever it maybe. 
A trained actor and Presentation Skills Trainer, our Toastmaster and Event Host is confident and charismatic and has no problem commanding the attention of hundreds of event attendees. He has worked with some of the world's most distinguished car manufacturers including Saab, Jaguar and Aston Martin, celebrities, senior politicians and royalty. Incredibly diplomatic and likeable he will fit seamlessly into your event. 
His professional experience means that he has a wide range of people skills and can adapt his hosting style to suit a wide range of roles and events. There to ensure the smooth running of the event, he will assist and liaise with suppliers involved and make sure that everything is kept to time, whilst also adhering to any protocols that are set in place. You can relax in the knowledge that he is an experienced professional able to swiftly and efficiently deal with any incidents that may occur. Hire our professional Toastmaster and take the stress away so that you can relax and enjoy the occasion with your guests. 
Able to appear at events in a wide range of capacities, he is a Fellow of the Guild of International Professional Toastmasters - a testament to his level of skill and training. Whether he is appearing in his red Toastmaster coast for a wedding or special occasions, suit for hosting a conference or corporate event, or attire of your choice for presenting an auction or product presentation, he will add gravitas and style to your occasion. 
Available as: 
Toastmaster
Event Host / Compere
Master of Ceremonies
Auctioneer
Conference Host / Facilitator / Moderator
If you'd like to find out more about booking our professional Toastmaster and Event Host for your next event, get in contact with our experienced Entertainment Coordinators. 
" We loved you and everything you did for us on our wedding! 5 star service! Would highly recommend you to anyone and everyone! Thank you so much! "

Rasna Kaur Virdee
" [He] is by far the best toast master / MC I have worked with. Friendly, amiable and polite, but able to command a room too make sure all your guests are in the right places at the right times, no matter what the event. "

Always a pleasure to work with. - Mark Chivers Photography
" [He] confidently and competently managed a somewhat noisy room of over 1000 mortgage industry professionals and made sure that he had everyone's attention when necessary. I look forward to working with [him] again. "

Agi Donovan
" I don't know where to begin to thank you for the excellent Master of Ceremonies work you did for us once again at the Revels dinner dance which made the evening such a success. Your calm professionalism attending to all the timings and keeping everyone in order enabled the evening to proceed without a hitch. So, on behalf of everyone, many thanks for the enormous effort you put in. "

Geoff Pitcher, Chairman of the Peppard Revels
" The moment I saw and heard [him] running a trade show I hired him to host our most important event of the year, the LS symposium. He is a fast learner and acted as if he had been in our industry for years and he performed a great job of keeping the delegates from getting carried away with the time. He ran the event in a very professional way, making a great connection with all the speakers and most importantly with the audience. "

Ariel Lasry, Manager for Life Sciences Industry Sales, EMEA Region at Rockwell Automation
" It has been our absolute privilege to have you preside over our celebrations last Saturday at Syon Park. Managing our 300+ guests appeared effortless. Your good humor and calm manner certainly helped us to enjoy our big day! We hope you had fun too! "

Samit Unadkat