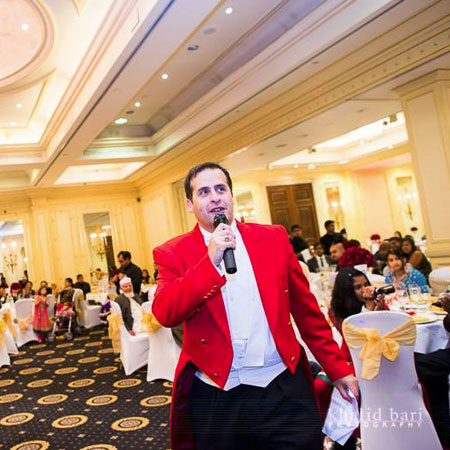 Toastmaster Jonathan
Award Winning Modern and Unique Toastmaster & Master of Ceremonies
Essential to the smooth running of the wedding day and evening
Caters for every type of wedding and event
Also available as a MC, Host, Compere and Charity Auctioneer
Based in London and will travel nationwide and worldwide
Jonathan is a young, Modern, and very unique Award Winning Wedding and Events Toastmaster and Master of Ceremonies.  His role as Toastmaster and Coordinator is essential to The smooth running of The wedding day and evening, The Toastmasters role on The wedding day is unlimited and Jonathan will help you create your perfect wedding day, and to ensure that the memories of your day, will last for a life time.
The role of the modern day Toastmaster is very extensive, some of the roles include, being present at the place of marriage whether this to be the church, Venue, Synagogue, Temple, or any other. Ensuring the whole day from start to finish runs without any hitches or delays. The role of The Corporate Events Toastmaster is also very vital, these events are often very prestigious, as well as The smooth running, The appropriate levels of protocol and etiquette need to be advised to you.           
Based in London Jonathan will travel Nationwide and Worldwide.  He caters for every type of wedding and event, and is also available as a Weddings Consultant, Events Consultant, Toastmaster for Banquets, Wedding Coordinator, MC, Host, Compere, Event Manager, Wedding Planner, Wedding and Events Organiser, Celebrant, Charity Auctioneer, Events Organiser and On The day Coordinator.
" "This was a fantastic occasion and everyone has warmly praised how well it was coordinated. It was a pleasure to have you there and all the guests enjoyed the function." "

Suhael
" "Jonathan provided an excellent service to the awards night we held for our employees. He was well organised and kept the proceedings of the evening running exactly to time. His enthusiasm for our event created the right mood from the start and he liaised with the catering and event location staff to keep everything running smoothly.Thank you Jonathan for providing such a good service and being pivotal in making the event the success it was." "

Jo Moussa- Head of HR.