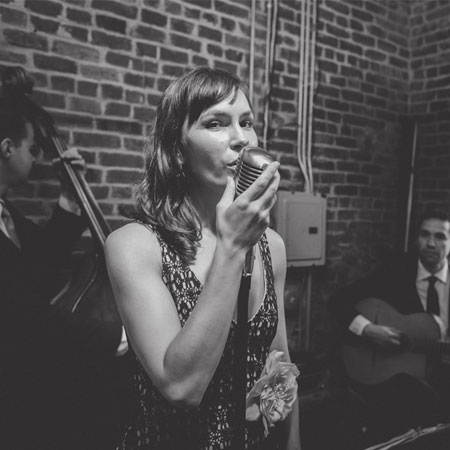 Traditional Swing Band Brooklyn
Book a sophisticated jazz band to create a magical atmosphere at your event
Our swing band are available with 3-5 talented members feat. vocals, violin, guitars & bass
Offering 1-5 sets of up to 50 minutes each, our versatile event band will adapt to your occasion
Previous clients include New York Museum of Modern Art, ETSY, National Geographic & Atlas Obscura
Available to perform in Brooklyn, New York & internationally
Traditional Swing Band Brooklyn PHOTOS
Book jazz musicians, big bands and swing orchestras from Scarlett Entertainment New York to perform at your event in the USA or worldwide. Our Brooklyn based swing band, Traditional Swing Band Brooklyn are known for their creative and stylish performances. Featuring a talented female vocalist, guitarist, violinist, bassist, our event musicians have performed in a wide variety of high profile venues including New York's Museum of Art and Tribeca Film Festival. 
Brought together by their love of swing music, our jazz band have built an eclectic repertoire of beautiful songs including 'It don't mean a thing', 'After you've gone' and 'All of me'. Also able to perform French language and Italian language songs, our talented swing swinger can adapt to the requirements of your event in order to provide the perfect set.
Our swing performers are available in a range of lineups including:
- An instrumental trio featuring violin, acoustic guitar and bass
- A four piece function band with a jazz singer, violin, guitar and bass
- A quintet with jazz vocalist, violin, 2 acoustic guitars and upright bass
Whether you are looking for an event band to perform at your wedding reception, gala dinner, garden party or shop opening, our experienced swing group are certain to create a sparkling atmosphere worthy of the big event.
To find out more about hiring Traditional Swing Band Brooklyn from Scarlett Entertainment New York, contact our USA office today. And for more information about the different jazz, swing, blues and jive options available to clients, please visit the dedicated section of our website: http://www.newyork.scarlettentertainment.com/live-music-dj/jazz-swing-bl...
Email: 
vegas@scarlettentertainment.com
Address: 
Scarlett Entertainment Inc
5275 Arville St.,
Suite 316,
Las Vegas, NV 89118
Telephone: 
+1 702 850 7510
i'll see you in my dreams
i'll go on alone
it don't mean a thing
la foule
la vie en rose
lover come back to me
manha de carnival menilmontant
moscow nights
nature boy
night and day
non dimenticar
padam padam
please be kind
september song
shadow of your smile
sous le ciel de paris
sunny side of the street
them there eyes
three little words
undecidabi gezunt
after you've gone
ain't misbehavin'
all of me
anything goes
autumn leaves
bei mir bist du shoen
il cielo in una stanza
besame mucho
back in your arms
bye bye black bird
c'est si bon
ces petit riens
cheek to cheek
corcovado
coucou
crazy
dawn
don't worry 'bout me
dream a little dream
exactly like you
fine romance
gentle rain
georgia
god bless the child honeysuckle rose
i can't give you anything
the way you look tonight
what goes up must come down
belleville rendez-vous
Metropolitan Museum of Art
Tribeca Film Festival
National Geographic
Hunterdon Art Museum
Museum of Modern Art NYC
Atlas Obscura
ETSY
The Box Cabaret
New York Poetry Society
Sotheby's Auction House NYC