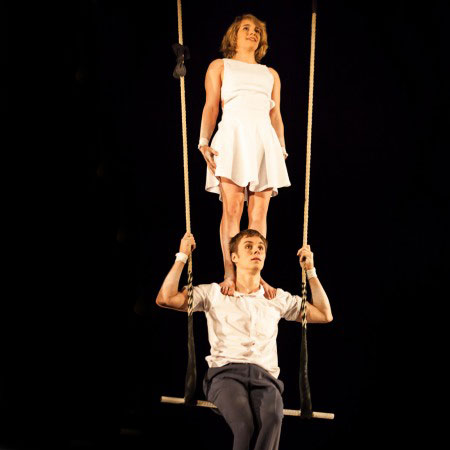 Trapeze Duo Germany
A beautiful poetic story that will touch the hearts of audiences
Elegant & fun choreography will put a smile on faces
Perfect as an after dinner show or theatre performance
Offer numerous shows with bespoke themes
Based in Germany & available to perform at events worldwide
Trapeze Duo Germany PHOTOS
Circus artist aren't supposed to be scared of heights, but what happens if you are?
This is a charming and heart warming tale of a beautiful circus performer with acrophobia; it follows her as she triumphs over her fears with the help of her partner. An uplifting story, this poetic acrobatic routine will touch the hearts of audiences and put smiles on their faces.
Stunning aerial acrobatics and theatre rolled into one, this performance is perfect as an after dinner show, theatre show, festival performance, or performance at an exhibition. In addition to this routine, they also perform a range of themed trapeze acts that can be performed both indoors and outdoors, and can create bespoke performances for specific briefs.