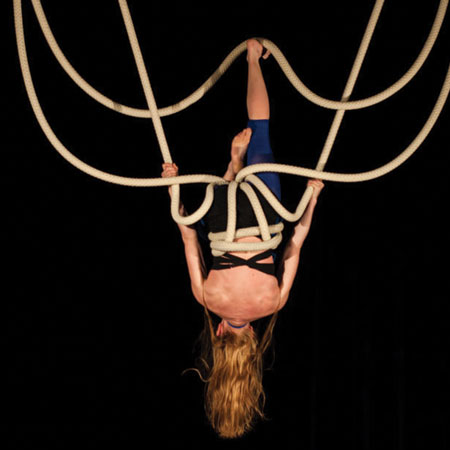 Triple Cloudswing Aerialist
Unique 'Cloudswing' aerial act uses 3 U-shaped hanging ropes to provide spectacular entertainment
Talented circus artist graduated from ACaPA with dance, theatre, circus, rigging & lighting skills
Our female aerialist performs a range of shows inc. "Ladylike", "Shadow" & "Stuck"
Aerial act reached the finals of Holland's Got Talent 2013 & has performed with numerous circuses
Based in Amsterdam & available to perform at events worldwide
Triple Cloudswing Aerialist PHOTOS
A talented circus artist who has performed with different companies since childhood, our Triple Cloudswing Aerialist has perfected her solo show using a unique piece of apparatus known as the "cloudswing". Using three ropes suspended in a U-shape, the acrobatic artist swings from the ceiling, demonstrating beautiful balances and holds as she moves between the different cables. 
After graduating from Fonty's Academy for Circus and Performance art, this talented female aerialist went on to perform at numerous private events, festivals and corporate functions including the Festival Cirque en Fleuve and the 150th anniversary of Royal Gymnastic Club Olympia. Our aerial rope artist also achieved great success in Holland's Got Talent where she reached the semi-finals and won the hearts of audiences worldwide.
Offering a range of different options, Triple Cloudswing Aerialist can adapt to the requirements of your event.
Her shows include:
"Ladylike" - An elegant and charming aerial routine, performed with passion and deep emotion.
"Shadow" - A playful aerial acrobatic show using silhouettes and a curtain
"Stuck" - A dynamic aerial performance incorporating poetry and music
"Vertical Dance" - An adaptable act, the aerialist performs against a wall, demonstrating somersaults and flips.
Able to perform in a range of costumes and to different soundtracks, this unique and versatile aerial show is perfect for a range of events. Speak to our knowledgeable event staff at Scarlett Entertainment Holland today for more information about booking Triple Cloudswing Aerialist for your next event.
Top Tip!
Our Amsterdam based aerialist can perform both inside and outside, enquire today for more information about the technical requirements of booking this act.
Turn on the Lights La Fura dels Baus (Amsterdam NL)
Diamond trio 60th anniversary Bream with Flying Artwork (Handzame BE)
Performance at Irish Aerial Dance Fest (Letterkenny IE)
Freiwald Menagerie Circus Christmas circus (Nijmegen NL)
Opening Corona tent (Bussum NL)
150th anniversary Royal Gymanastic club Olympia (Amsterdam NL)
Circo Circolo (Liempde NL)
Performance at Jaques de Leeuw Prijs (Tilburg Concert Hall NL)
Theatre tour with Ellen ten Damme
Opening Theatre Kunstmin with TENT circus theatre productions (Dordrecht NL)
Tissu performance at festival Cirque en Fleuve (Montmagny
Magic Mobile circus Barum (Pijnacker NL)
Semi finals Holland's got Talent Dutch television talent show
Summer performance staff (Efteling themepark NL)
Featured in documentary "Grazing the Sky" by Horacio Alcala
Performance at Aerial Dance Encounters (La Baule FR)
Night of the Arts Fontys (Tilburg NL)