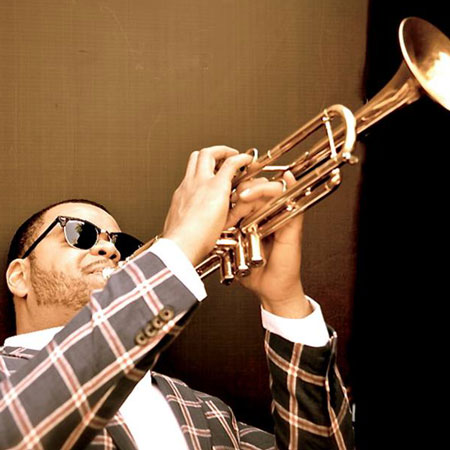 Trumpet Player Jumaane
World renowned trumpeter and vocalist who has toured the world and recorded with Michael Bublé
A trumpet player who has worked with some of the most iconic producers and artists such as Quincy Jones, Stevie Wonder and David Foster
Can perform as a soloist or as a band, our Seattle Musician has even performed for two sitting U.S. Presidents
Our artist has travelled the world, worked with top performers, performed in cultural landmarks and has recorded a solo album
Based in Seattle and available for worldwide bookings
Trumpet Player Jumaane PHOTOS
Our world renowned trumpeter and vocalist has wowed audiences all over the globe with his magnificent talent as both a trumpet player and vocalist. A Seattle musician who has toured with Michael Bublé since 2005 plays stunning Jazz music as well as hitting remarkable vocals.
In addition to travelling the world, playing at historic clubs, massive stadiums and cultural landmarks our trumpeter and vocalist has created a fantastic solo album, appeared on national TV stations and has even performed to two sitting U.S. Presidents.
Having collaborated with music idols such as Stevie Wonder, Quincy Jones, Alicia Keys, The Jonas Brothers, Wyclef Jean, Justin Bieber, Diddy, Natalie Cole, James Ingram, Wynton Marsalis, Ravi Coltrane, Chris Botti our trumpet player truly is a force to be reckoned with as his extraordinary talent dazzles audiences and professionals worldwide.
A graduate from renowned conservatoire Julliard, this trumpeter and vocalist has gone on to create breath taking jazz music with outstanding creatives in the music industry as well as performing with top orchestras across the United States and Canada. In addition to this our trumpeter and vocalist's debute album sold 10,000 copies, charted at #10 on Billboard Jazz Chart and #5 on USA iTunes jazz sales. He has over 30,000 social media followers and close to 1 million YouTube views.
In 2005 our Seattle musician joined Michael Bublé's band and since then has toured the world and recorded extensively with Michael Bublé. In addition to touring with Michael Bublé, Our trumpet player has played the Grammy Awards show with Stevie Wonder as well as recording hit song 'As I Am' with Alicia Keys. The recordings our trumpeter and vocalist has appeared on have sold more than 25 million copies worldwide as well as receiving four Grammy nominations and three Grammy Award wins. 
Our Seattle musician is an outstanding artist who's achievements are endless, as he performs spectacular jazz music for all to enjoy and feel apart of. 
To book our renowned trumpet player, or for more information contact our Entertainment Specialists. 
Good Morning America
Lionel Hampton Jazz Festival
Monterey Jazz Festival
Montreux Jazz Festival
Oprah Winfrey Show
Rochester International Jazz Festival
The Late Show with David Letterman
Tonight Show with Jay Leno
FloRida's latest single "Zillionaire"
Michael Buble's "Blue Christmas"
Featured soloist with:
Houston Pops Orchestra
Jackie Evancho
Quincy Jones
Catalina Island Jazz Festival
Java Jazz Festival
Madison Square Garden
Montreal Jazz Festival
North Sea Jazz Festival
Radio City Music Hall
The Grammy Awards (with Stevie Wonder)
Today Show
Two sellout shows at Jazz at Lincoln Center
Featured guest soloist recordings:
Michael Buble's latest single "Nobody But Me"
Chicago Symphony
Pittsburgh Symphony Toronto Symphony
Featured special guest soloist with:
David Foster
Michael Buble
Ellen DeGeneris Show
" Terrific and prodigious trumpeter "

Will Freidwald - Wall Street Journal
" An instant and essential album, one that is definitive and timeless, a jazz recording appealing to a wide audience of music enthusiasts with cool, classical sensibilities. A must have that is delightfully pleasing to the ears! "

SmoothJazz.com
" A very special artists who is managing to be a unique and irresistibly creative voice at a time when most players are simply trying to imitate their favourites. "

Don Heckman - LA Times, Downbeat, JazzTimes