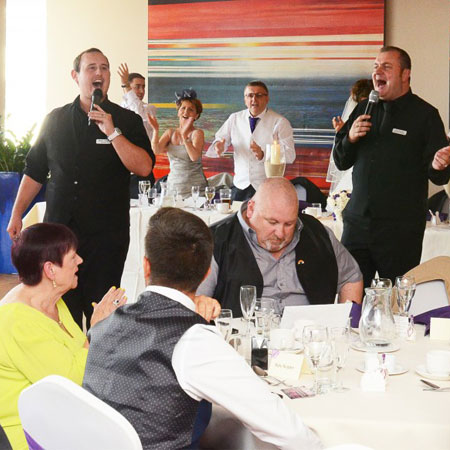 UK Singing Waiters
Two of the UK's finest wedding singers & performers
Surprise act will create a buzzing atmosphere & excitement at any event
Fun interactive entertainment that will have guests singing along!
Previous clients include Peugeot, Virgin, Hilton Hotels & Radisson Blu
Based in the UK & available to perform at events worldwide
UK Singing Waiters PHOTOS
Two of the UK's finest wedding singers will make your special occasion a complete and utter success! Their amazing vocal skills, charm and charisma combined with the element of surprise will create a buzzing atmosphere of excitement that you and your guests will be talking about for years to come.
A fun form of interactive entertainment, the singing waiters will mix and mingle with the venue staff and welcome guests into the room, serve drinks and the meal. They are not your average waiters though; they will inject a comedy element into their service drinking the wine, complaining about their jobs and even asking your guests for their ID! A hilarious comedy duo their comic banter will have guests in fits of giggles. Once the last course is served imagine guests surprise and amazement as the first waiter breaks into song closely followed by waiter number two. Professional and experienced performers, this duo know how to work the room interacting with guests, encouraging everyone to sing along and join in with the fun on the dance floor.
This duo will provide truly unforgettable entertainment. Marcus is a talented singer and has performed with huge household names such as Robbie Williams, Shayne Ward, and Tom Jones, while Nathan is one of the most sought after performers in the North West of England! With a repertoire of over 500 songs ranging from soul and swing right through to modern hits they will have something to suit all musical tastes and any sort of event. For surprise entertainment that will bring laughter, fun and happy memories to your event look no further.
Top Tip:
The surprise act is not only available in the form of waiters: you can also spark fear in your guests for a short amount of time whilst the Police arrive and pretend to encounter an issue with the event, before breaking out into song and wowing your attendees. The singers can also start the act by performing as disgruntled chefs. If adding a hint of mischief to your event is something that appeals to you, then these surprise options could be just what you are looking for.
AXA
Hilton Hotels
Radisson Blu
Peugeot
Camp and furnace
Marriott Hotels
Crowne Plaza Hotels & Resorts
Virgin
" I would just like to thank James and Nathan for making our day a day that will never be forgotten, they fooled everyone and had every single person on their feet dancing. We couldn't of asked for anymore they were both absolutely fantastic. So many pictures and so many videos taken that are being shared and talked about constantly. "

Mr & Mrs Hulme, Crew Hall, 2014
" I booked [them] for my husband's surprise 65th party on the recommendation of a friend! Marcus and Nathan acted out a scenario in their respective roles as authoritarian manager and bullied member of staff superbly and so well that our guests were totally shocked and surprised when the singing began! It was great fun. … the set catered for all ages and everybody was soon up dancing and enjoying themselves! "

Judith Roach, 65th Birthday Party, Holiday Inn Hoylake, 2014
" We booked Nathan & Marcus for our company 140th Anniversary ball. We had 190 staff there and can honestly say that every single person really enjoyed the entertainment the boys provided. The way they blended in with the hotel staff had everyone fooled and nobody was expecting the amazing floor show which followed. The comedy they provided along with their fantastic singing absolutely made our anniversary ball a huge success. I would highly recommend these boys for any corporate event or indeed any type of function as they will guarantee to have everyone up out of their seats, dancing, singing and having a ball! I will certainly be back to book them again in the future. Thank you Nathan & Marcus for making our event a night to remember. "

Sandra Mc Allister, Althams Travel Ceder House, 2014