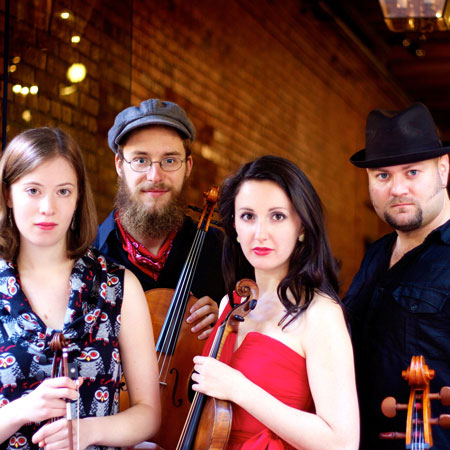 Vancouver String Quartet
String quartet featuring some of Vancouver's finest young musicians
Able to perform everything from classical music to rock, pop and jazz
Quartet has performed with choirs, with dance companies and on studio recordings
Ideal for weddings, corporate functions and private events
Based in Vancouver and available for events all over Canada and beyond
Our fantastic Vancouver String Quartet is a collective of some of Vancouver's finest young musicians. This string quartet is made up of two violinists, a violist, and a cellist. They are current and on trend with the latest artists as well as professionally trained and able to deliver stunning classical music. 
This hugely talented Vancouver string ensemble is in great demand for a wide variety of events and occasions. The quartet is regularly booked for weddings, public concerts, corporate functions, and private parties, as well as having appeared on studio albums for the likes of 54-40, Marianas Trench, Bleeding Through, and many others. Individual members of the Vancouver string ensemble have performed live on stage with artists such as Rod Stewart, Kanye West, Sting, Michael Buble, Mariah Carey, The Trans-Siberian Orchestra, and Video Games Live, and all perform regularly with symphony orchestras.
The Vancouver String Quartet has an eclectic and varied repertoire of music that is fully customisable according to clients' requirements. They are able to perform everything from classical music to rock, pop, jazz, and even metal tunes. 
The string quartet's solid classical music background, very high skill level, and collective open-mindedness make this group one of Vancouver's most unique and versatile ensembles.
To find out more about the Vancouver String Quartet or to book them for your upcoming event or special occasion, please contact our team at Scarlett Entertainment, who will be more than happy to help.