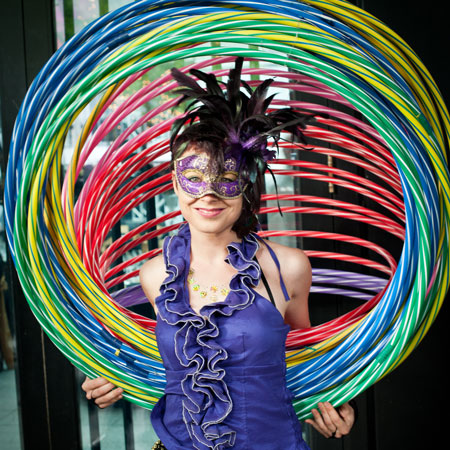 Variety Hula Hoop Show
Highly skilled hula hoop performer will delight and captivate audiences at your event
Spellbinding circus entertainment with professional entertainer putting on incredible show
Can also perform as fire artist and LED act alongside hula hoop routines
Ideal for festivals, parties, exhibitions, corporate functions, gala dinners, etc.
Hula hooper available to hire for events in Quebec and across Canada
Variety Hula Hoop Show VIDEOS
Variety Hula Hoop Show PHOTOS
Sure to amaze guests at your special occasion, our fantastic hula hooper will instantly engage audiences as she showcases her incredible talents in a captivating variety show. Providing fascinating circus entertainment, this professional hula hoop performer is also a talented fire artist and has an LED act, with the impressive combination of all of these disciplines guaranteeing you a thoroughly enjoyable performance.
An experienced and professional circus artist who is committed to delivering a high standard of entertainment at every opportunity, this wonderful hula hoop performer is bound to have universal appeal at your event. A charismatic and dynamic entertainer who demonstrates impressive balance, control, and precision every time she takes to stage with her hoop act, our artist is also extremely versatile. Able to cater to any specific requests and tailor her act to exactly meet your needs, our performer can perform her dazzling routine to the music of your choice, and can also offer shows with a selection of costumes and themes in order to match the occasion.
Creating a unique atmosphere with her exciting act, our hula hooper will dance and twirl up to 50 hoops in a mesmerising spectacle which sees her produce a giant mandala, balance hoops on her body, and manipulate the rings in a dazzling display of remarkable flexibility and choreography. A show full of colour, warmth, and emotion, this wonderful performance is certain to prove popular. Also able to incorporate her LED act into the production, this skilled entertainer performs with light up hoops and LED poi, making for a wonderful aesthetic. A gifted fire artist who will delight onlookers with fire hoops, fire poi, and fire fans, our hula hoop performer can also bring this element into her hoop show, delivering an exceptional variety performance to your celebrations.
A contemporary and exciting show that is guaranteed to have people talking about your special occasion for a long time to come, our hula hooper is ideal for private parties, themed events, exhibitions, festivals, corporate events, gala dinners, ceremonies and more, and is available to book for events in Quebec and throughout Canada.
A former Cirque du Soleil performer, our brilliant fire and LED artist is just one of the many incredible circus entertainment options that we can offer for private and corporate events around the world. For more information about the extraordinary acts we can provide you with, contact our entertainment specialists today and let us help you make your special occasion truly exceptional.