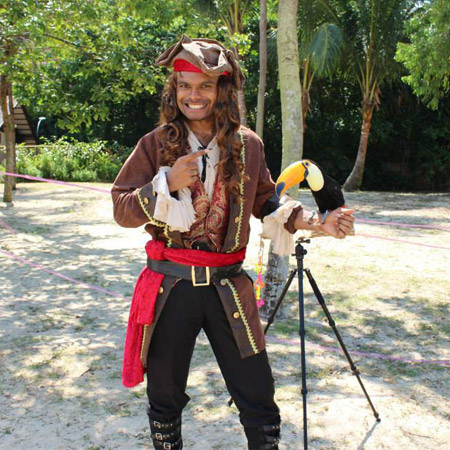 Variety Magician Singapore
High energy and hilarious variety magic show that'll capture attention.
Professional and award winning pirate magician will provide a variety of magic routines.
Hilarious magic act will keep your guests on their toes.
Ideal interactive entertainment for corporate events, private parties, themed events, and more.
Fun magic act available for events throughout Singapore.
Variety Magician Singapore PHOTOS
Book our incredible pirate magician who is certain to take the spotlight at your next event or social gathering, creating his own brand of stage magic that is sure to captivate your guests no matter their age. Our family friendly comedic variety magic show will entertain with an assortment of magic tricks, creating a glorious atmosphere for guests to enjoy. A fun and exciting magic act that will supply your event with mind blowing and simplistic interactive entertainment. Performing a host of tricks, our costumed performer will blow your guests out of their seats with laughter and magic. 
Described as a crazy pirate magician, our costumed performer performs with an assortment of magical sidekicks including a stunning parrot and beautiful female co-star that help our variety magic show stay upbeat and hilarious. Our fantastic variety magic show has been performed throughout Singapore with rave results as our stage magician has won a variety of different awards including the Merlin Award! Our pirate magician has years of performance and interactive entertainment experience and has performed in every kind of situation, from mall appearances to elegant venues! There is no situation that can't house our phenomenal magic act.
Performing under his explosive and bumbling character, our pirate magician's essential magic makes him an eccentric and entertaining performer. If you are looking for an incredible yet completely simple magic act for your upcoming event, than look no further then our amazing variety magic show, as our versatile costumed performer can tailor his wonderful performance to fit most themes and style guidelines. The perfect interactive entertainment experience for private parties, corporate events, street performances, theatre performances, themed occasions, product launches, weddings, and more.
If you are interested in booking our wonderful pirate magician for your upcoming special engagement, contact any of our helpful entertainment experts who are standing by to assist you with your booking needs.
Bosch
EPSON
Fitness Network
LISHA
Nation Library Board Singapore
Sentosa
The American Club
AIG
CapitaLand
Energizer
HSBC
Merit Medical
OCBC Bank
Spore
Village Hotel
Asian Civilisations Museum