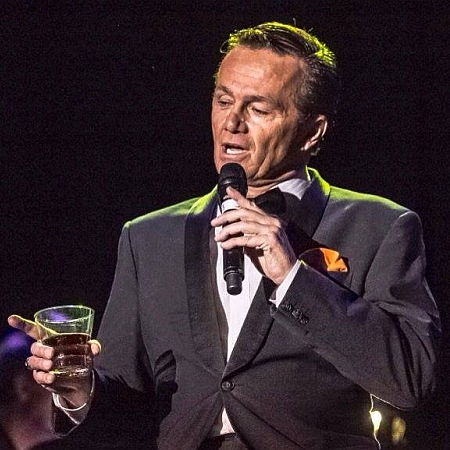 Vegas Frank Sinatra Tribute
Dedicated to recreating an authentic Sinatra experience
Winner of Las Vegas' 2014 Male Tribute Artist of the Year
Perfect for corporate events, hotels, casinos, cruise ships,private events
Clients include Bellagio, Hilton, Wynn, Encore, Venetian, MGM, Ford Motors
Based in Las Vegas & available to perform at events worldwide
Vegas Frank Sinatra Tribute PHOTOS
Winner of Las Vegas' '2014 Male Tribute Artist of the Year' and hailed as the 'best Sinatra in Las Vegas' by actress Pia Zadora, this act has been wowing audiences with his Frank Sinatra impersonations across the USA and abroad.
A gifted performer and professional actor, singer, dancer and comedian, his shows take audiences back to the golden era with renditions of 'New York, New York', 'Fly Me to the Moon', 'Angel Eyes' and 'My Way'. He has the looks, the charisma and the voice and performs the ultimate Frank Sinatra tribute. As a testament to his professionalism and the quality of his performances, he has mesmerised audiences at the renowned Caesar's Palace, Bellagio, Venetian and Mirage.
A top Frank Sinatra impersonator, this act will make your event one to remember.
Las Vegas Hilton
Cosmopolitan
Encore
Mirage
Harrah's
MGM
The Italian Festival – Little Italy
Festa Bella
Hilton Torrey Pines
The Westgate Hotel
The Marriot Hotel & Marina
The Top O The Cove
The Four Seasons Aviara
The Jonathan Club – Santa Monica
Callaway Winery – Temecula
Thunderbird Country Club – La Quinta
National
Seneca Niagara Casino
The Galt Ocean Hotel – Ft Lauderdale Fla.
Hofstra University – Long Island NY
Hofbrau House – Munich Germany
Hotel Cipriani – Venice Italy
Cortina De Ampezzo Italy
The Mayors Ball – Tijuana Mexico
Various Maiori Italy
Bellagio
Rivera
Wynn
Venetian
Caesar's Palace
Flamingo
The Sicilian Festival
Ford Motor Company
The Manchester Grand Hyatt
The U S Grant Hotel
The Sheraton Harbor Island Hotel
Mille Fluere Restaurant
Orfila Winery
The Fairmont – San Francisco
Temecula Theater
Borgata
Lawrence Welk Theatre
The Forge – Miami Florida
Academy of Music – NYC
International
Hotel Roma – Courmaier Italy
Hotel Miramonti –
Hotel Imperial – Kitzbuel Austria
Repos Select Kyoto Japan
Various Australia
Rio