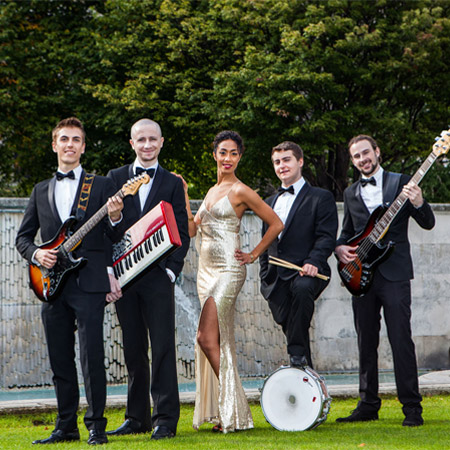 Velvet Soul Jazz Band
Sensational jazz band that will make your event an experience to remember.
Fantastic live music show providing your event with high levels of energy.
Professional and skilled soul jazz band providing charismatic live music entertainment.
Female led band ideal for weddings, parties, corporate events, music festivals, etc.
Trained female jazz vocalist and jazz band available for booking throughout the UK.
Velvet Soul Jazz Band PHOTOS
Take your upcoming special occasion to the top by booking our skilled and professional soul jazz band, a fantastic female led band that will deliver an incredible live music show that is filled with a number of pop, jazz, and soul hits including Meghan Trainor's "All About That Bass." Exceptional live music entertainment that will keep your guests on their feet as they rush to the dance floor, engaging with our amazing jazz band, reacting in a high energy fashion to our charismatic live music show. Featuring a fantastic female jazz vocalist that will help make your special event stand out above the rest.
A talented group of musicians committed to creating a unique musical experience for your event, our brilliant female led band is made up of professional musicians that can be provided in a number of line up options that range from a 3 to 7 piece band with our standard being focusing on our electric 5 piece option, featuring a talented female jazz vocalist and sensational soul jazz band. Bound to be a hit among your guests no matter their age, our wonderful jazz band will provide your event with an epic soundtrack that'll keep their live music show grooving and moving along with your guests.
Our sensational jazz band are able to offer you a few customization options in the form of the style and type of set list you might want featured at your special occasion, and can offer a few spots for off the wall song requests from your guests themselves. A passionate team of music performers, our versatile and talented soul jazz band will leave guests with unforgettable memories and a long lasting impression on your event. A fun and interactive musical entertainment experience perfect for wedding receptions, corporate events, advertising campaigns, gala dinners, private parties, music festivals, family days, and more. 
Contact any of our entertainment experts here at Scarlett Entertainment if you're interested in the services provided by our marvellous jazz band and wish to book them for your upcoming special event.