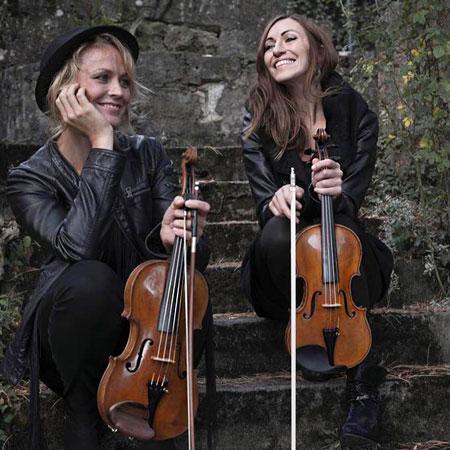 Violin Duo Germany
Brilliant live female violin duo that can serenade your guests or get the party started
Repertoire spans from classical and Jewish music to pop, soul and movie soundtracks
Perfect live music for wedding ceremonies, drinks receptions, corporate events, dinner parties and corporate events
Classically trained with experience in respected orchestras in Germany
Based in Germany and available for events all over the world
Violin Duo Germany PHOTOS
Providing your guests with a brilliant live music experience, our Violin Duo Germany are two extremely experienced and talented musicians offering the delicates sounds of the violin for events throughout Germany and further afield. The two musicians have international experience and, together, this female violin duo has performed as a string duo at events all over the world. 
Our Violin Duo Germany offers varied live music that can be fully tailored to the clients' tastes or preferences. The string duo has a vast and eclectic repertoire of songs that span from classic films soundtracks to Jewish music, pop and soul to classical music and all-time classics. The violin duo can serenade your guests with completely acoustic music or they can be accompanied by high-quality backing tracks to create more of a spectacle.  
Both members of the female violin duo studied at the Franz Liszt School of Music and continued training in a variety of well respected establishments. Together they have gained extensive professional experience in orchestras such as Staatstheater Nürnberg, Philharmonic Orchestra Würzburg, the International Mahler Orchestra and the German National Theater Weimar. Both use amazing antique instruments. dating as far back as 1704, and keep true to their classical roots whilst bringing the live music firmly into the modern era. 
This sensational female violin duo can provide the best live music for wedding ceremonies, drinks receptions, corporate events, dinner parties, conferences, and so much more. 
If you would like to book our Violin Duo Germany for your event, please get in touch with us at Scarlett Entertainment to find out more. 
A La Luz De Los Faroles
Air Von Bach
Alcazaba
Andalucian Lily
Angels
Another Day in Paradise
Be Our Guest
Beauty and the Beast
Behind Blue Eyes
Bitter Sweet Symphony
Boruch Ato Bo´ir
Can´t Get You out of My Head
Chiquilin De Bachin
Clocks
Don´t Know Why
Don´t Stop Movin
El Cachorrito
El Chamuyo
El Choclo
El Dia Que Me Quieras
Eternal Flame
Everything I Do It for You
Feather Theme (Forrest Gump)
From Me to You
Genesee Rag
Goldfinger
Greensleeves
Hedwig´s Theme (Harry Potter)
I Will Always Love You
Ich War Noch Niemals in New York
In Dreams (Lord of the Rings)
James Bond Theme
Jenny´s Theme (Big Fish)
3rd Street Walk
La Punalada
La Valse  D`amelie
Mamma Mia
Miserlou
Mission: Impossible Theme
Muppet Show Theme
No Matter What
Nothing Else Matters - Metallica
Ocean Stomp
Over the Rainbow
Palladio
Parade of the Charioteers
Pineapple Rag
Por Una Cabeza
Rebn´s Tanz
Rumanian Hora Chusidl E Bulgar
Schindlers List
She`s the One
Sie Sieht Mich Einfach Nicht
Skyfall
Speak Softlylove
Star Wars Main Theme
Summertime
Tears in Heaven
The Closest Thing to Crazy
The Pink Panther
There You´ll Be ( Pearl Harbour)
Unchained Melody
Und Wenn Ein Lied
Wake Me Up When September Ends
Wind of Change Mad World
Wizard Wheezes (Harry Potter)
Yesterday K
Yoshke yoshke
Zorba`s Dance