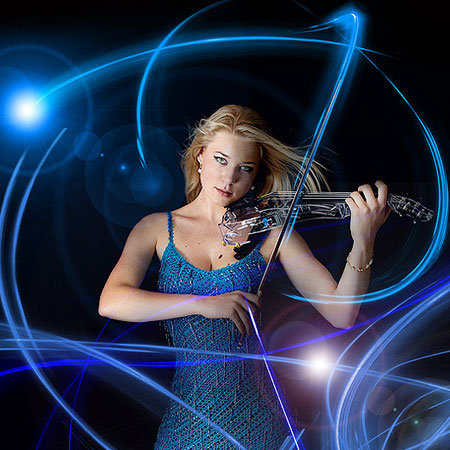 Violinist Kate
A world famous & award winning musical sensation
An exceptional and classically trained electric & classical violinist
Played for corporate clients at prestigious international events
Previous clients inc Land Rover, IBM, House of Fraser, Heineken, Debenhams
Based in the UK & available to perform at events worldwide
Kate is a world famous & award winning musical sensation. She is a highly trained electric & classical violinist and has had over 17 years of rigorous training, including both BMus & MMus degrees in Violin Performance from the prestigious Royal Northern College of Music. Unlike so many of today's performers, Kate performs a repertoire that includes hundreds of pieces by memory - without sheet music!
Kate often incorporates a mixture of traditional pieces - executed on her custom-made classical violin - and the innovative sound of fusion performance on her Ted Brewer Vivo 2 electric violin. Kate caters each individual booking to her clients' specific requirements, and in doing so Kate ensures that each customer is entirely satisfied with both the content and style of her delivery.
Kate will add a glittering new dimension to your event, be it an electrifying stage show or a more subtle background performance. Kate has previously appeared on TV in the UK on BBC 1, and has performed for corporate clients and celebrities that have included Land Rover, IBM, House of Fraser, Heineken, Debenhams, Steve Coogan, The Rt. Hon. William Hague, and in Geneva for an International Forex Event. She has toured right across the UK, Europe and also performed in both Dubai & the USA, wowing audiences at every venue.
House of Fraser
Debenhams
The Rt. Hon. William Hague
Land Rover
Heineken
Steve Coogan
And many more...
IBM
" Kate played at the Yorkshire Cancer Research Art Exhibition which was held at Pavilions of Harrogate last May. The event was attended by around 350 people and was opened by The Rt. Hon. William Hague. Following our initial discussion, Kate chose a selection of classical and elegant popular pieces to play. Her performance was impeccable and I received many complimentary comments. I would not hesitate to use her again. "

Sally Crerar, Cancer Research UK
" Just to say thank you for your truly wonderful playing yesterday. Many guests from my 50th birthday party in Lincolnshire have contacted me today, mentioning how much they enjoyed listening to you. My most sincere best wishes for all that you hope to achieve in the future. "

Mark Riddle
" When we were planning our wedding we of course wanted to make the day as memorable and beautiful as possible. We were searching for ideas for our wedding whilst in Leeds City Centre one day and heard Kate's music down the street. We ventured down to see her playing, and we both commented on how wonderful it would be to have her play at our ceremony. We approached Kate who was really friendly and kept in communication with us up to the big day. Kate helped us to pick the music we wanted, sending us samples of suggested tracks, and finding backing music for ones we requested. On the day of the wedding Kate didn't disappoint, everyone commented on how wonderful her music was and the violin added a real touch of class to our day. Kate was on time, immaculately dressed and played wonderfully – we'd really recommend Kate for whatever your event. We've since listened to Kate's new album which is great, and has a real mix of classical favorites and modern hits. "

Vikki & Gareth Brown
" Thank you so much for your wonderful performance last month, I know our guests were thrilled with your bright, and vibrant performance. "

Lucy Piatkowski, Events & Exhibitions Officer, West Yorkshire Police
" A great blend of classical music delivered with the contemporary twist that today's listener wants to hear, Kate's music is a welcome addition to any style of event/party. "

Colin Hill - Aspire Leeds
" Kate played a varied set of classics and popular tunes, displaying a virtuosity that immediately seized the audience. The assembled group were entranced and said they couldn't wait for her to come back to play for them again. "

Jeff Pickersgill (Leeds society for Deaf and Blind People)
" Having heard Kate playing on Briggate we knew she would be absolutely perfect for our event... and she was. Playing during the drinks reception she set exactly the right tone and guests loved her. Would definitely recommend. "

Emma Farquharson - Banana Kick
" Everyone enjoyed the concert on Wednesday. It was enhanced by your beautiful playing. Good luck in your musical career - you deserve to succeed. "

Chief Constable Norman Bettison and all at West Yorkshire Police
" Katarzyna has deputised on violin for my professional band Charanga del Norte whilst studying for her BA in music at Leeds University. She has a great sound and is a pleasure to work with! "

Dr Sue Miller - Leader Charanga del Norte
" The wedding guests all commented on 'that wonderful violinist' who really got the event off to an emotional start. Kate's pieces were played with great passion and enthusiasm which added a terrific dimension to the whole day. Kate had put together a brilliant score which included something for everyone and it was presented in a way that captivated her audience. The whole day was made complete because Kate added a unique strand of magic which brightened up everyone's hearts. "

Howard & Bernadette Fanning
" Kate played at our recent Silver Wedding at Ripley Castle. Everyone there thought she was fantastic! We were really pleased with her musical choices for the evening and her violin playing is simply brilliant. As we arrived at the venue, we could hear Kate start to play, which was a nice touch and set the mood for the evening to come. We would recommend her to everyone, whatever the occasion. "

Simon Priestley
" Thank you for making my 40th birthday so special, all the guest has told me how good you were and how moving was the performance, Your selection of musique was very good and we thank you for accepting some selection of our choice. Thank you again, we love your performance and wish you every success in future. "

Charles - Host
" I just wanted to drop you a note to say thank you so much for playing at my wedding yesterday. Many of my guests commented on how fantastic you were and you made the ceremony feel very special. One guest thought you had purposely worn a red dress to compliment my flowers! "

Kate & John Derry
" I arranged for Kate to perform at my son's wedding on the 4th June 2011. Kate's performance, manner and professionalism was superb. All the guests were so impressed with her music; it made the day extra special. I would recommend Kate wholeheartedly to anyone wanting to add something special to their personal events. "

Nicola Aston
" Kate was very professional and creative in her performance at the recent wedding at Whirlow Grange. We see many performers and creative individuals and Kate was up there with the best. She was helpful and reflective of the needs of guests and the wedding party. All round a first class choice of performer. "

Graham Holland MA – Warden & General Manager at Whirlow Grange
" Having had Kate perform at our wedding earlier this year we are delighted to recommend her. Her repertoire was excellent. She was professional at all times, and communicated regularly. Her Violin music was beautiful at the Hotel wedding ceremony and the blessing service that followed held at Bolton Abbey Priory in North Yorkshire. Kate is a real find! "

Jane & Paul Holmes
" I saw Kate playing her violin in Huddersfield Town Centre; I never knew the violin could sound so beautiful. Some of the tunes Kate played brought a tear to my eyes and a lump in my throat. If you get the chance to see her play you will not regret it and I recommend her CD's to play to relax, they will make you drift away from the stresses of the day. "

Dave Sanderson – Centre Manager
" Kate appeared with the Choir at a Concert in Silkstone Parish Church and "wowed" the audience with her choice of music and her versatility. We would strongly recommend her to anyone wanting a highly talented and professional violinist. "

Ian Pasley – Secretary Worrall Male Voice Choir
" Kate played at our wedding and was outstanding, we would highly recommend her to play at any event, she was one of the highlights of our special day! Thank you so much Kate! "

Claire & James Reed
" I got back from honeymoon at the weekend - I wanted to email you to say a big thank you for playing on the day. It was brilliant - everyone commented how good you were. "

Joanne Allcock
" I really wanted to send you my sincere thanks for providing such beautiful music on that special day. It made their ceremony perfect. The guests were all buzzing with comments and complements about your reception performance and I have to say that I enjoyed every minute listening. (…) and best wishes to you for your continued career in music. "

Mavis and John Davies.
" I am delighted to hear that everyone fully enjoyed your presence and Oliver and his partner send on their sincere thanks to you. "

Signora Mandy Barwick, Hospitality, Public Relations & Marketing Manager, Bibis Italianissimo, Leeds
" Kate the violinist was truly spectacular at our Range Rover Evoque Launch, she entertained and indeed memorised our guests all evening with her exquisite performances. We received so many compliments about Kate, her quality and music was perfect for our occasion and what impressed us all was her commitment to the evening, she played all night!A true professional, we would not hesitate to recommend Kate, particularly if you're looking for that wow factor for your event. "

Simon Lewis, Sales Manager, Land Rover