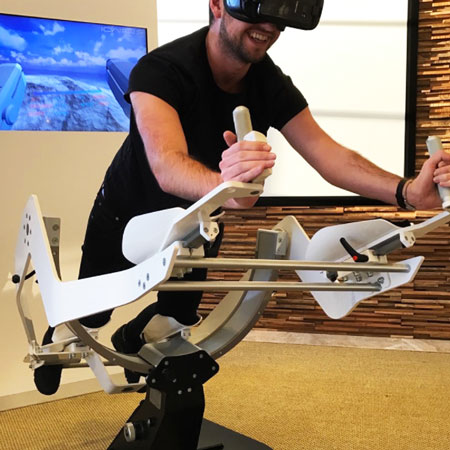 Virtual Reality Wing Suit
Top of the range VR experience that will amaze crowds
Participants are fully suspended for a realistic feel
Can customise apparatus and in-game play with branding or logos
Unforgettable digital entertainment option for many event types
Based in Burton upon Trent and available all over the world
Your guests are able to take to the skies without even leaving the room with this innovative virtual reality wing suit. This exceptional digital entertainment is one of the latest must have crowd gathering interactive entertainment options. It effortlessly blends a VR experience with a state of the art flight simulator. 
Participants are able to glide through the air thanks to a full body suspension flight simulator and they can guide themselves through the sky using top notch VR goggles. It becomes this an immersive activity and can be enjoyed by all audience types. The incredible virtual reality wing suit is an amazing VR experience that your guests are not likely to forget any time soon. It really is the next step in digital technology where guests can not only see but feel at the same time.
This VR experience lets participants glide amongst the mountain terrain for a wild and realistic journey in a virtual world. The simulator tracks movement as participants dip and dive through the sky gates in the fastest time possible. The game includes a spectator screen so everyone can see what is going on.
It is possible to customise the virtual reality wing suit with external branding from logo to wrap to base of frame and in game logo placement. This means you can use this modern flight simulator as a clever marketing tool and interactive entertainment that is guaranteed to attract people. It can accommodate roughly 20 people in a hour or 150 in an eight hour day. It only takes three to seven minutes to take part, but will deliver a VR experience that they will remember.
Get in touch with our team of specialist who will be more than happy to help you book the virtual reality wing suit for your next event.