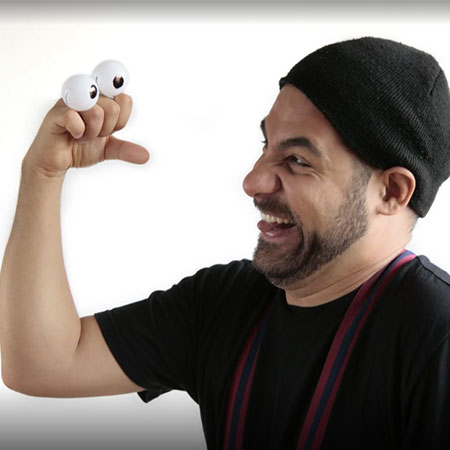 Visual Comedy Act
Clumsy visual clown defines himself as a laughter craftsman who brings a smile to audiences of all ages
Quickly wins audiences over with his charismatic personality and fine and touching humour
Crosses over the barriers of language and age with a circus stage show that doesn't involve verbal communication
Perfect live stage entertainment for ceremonies, galas, dinners, after dinner experiences, festivals, etc.
This Visual Comedy Act is available for bookings in Barcelona, Spain and worldwide
Are you looking for a live stage entertainment option for your upcoming event? If an act that people of all ages can enjoy is what you have in mind, then look no further: this Visual Comedy Act is what your event needs!
Spreading smiles and a little bit of magic, this visual clown will quickly win audiences over with his character's charming personality. Inspired by the classic figures of clowns and magicians, this entertainer has created a visual comedy show that awakens creativity and magic inside of every one of us.
Focusing his performances on the universal language of smile, this circus stage show aims to bring joy to those attending festivals, theatres, etc. An act full of fine, touching and very effective humour, our clumsy visual clown defines himself as a laughter craftsman.
Loved by both children and adults, this circus stage show is perfect for international audiences as our visual clown only uses visual comedy to communicate. Only speaking a few words, this circus artist crosses over the barriers of language and age.
Ideal live stage entertainment option for a wide range of occasions, this circus stage show is especially suitable for festivals, ceremonies, galas and after dinner experiences. Whatever the occasion, this act is guaranteed to win the hearts of everyone with very simple elements and no paraphernalia or equipment.
Scarlett Entertainment offers a variety of circus stage shows for events and occasions in Barcelona, Spain and all over the world.
If you're interested in booking this sensational Visual Comedy Act, don't hesitate to get in touch with us today and make an enquiry. Our dedicated team of Entertainment Experts will be more than happy to answer all the questions you may have about this visual comedy show and guide you through the booking process.
" A year has passed since he was here, and still the audience remembers his tricks and his fine humour "

Andrea Tamagnini –FESTIVAL CALANCHI, San Marino, Republic of San Marino
" Smiles, tenderness, and unexpected magic emerge from this captivating character "

Marina Nadal – Fundació Catalunya-La Pedrera, Almenar, Spain
" Interaction with the audience was fantastic and their reaction was very positive. A success at all levels "

Pilar Calero –GAUKLERFEST, Attendorn, Germany
" He's very gentle with his audience, very subtle and recognises detail in his artistic creation. The show leaves the audience with a very happy and warm feeling afterwards. "

Maia Vandenbossche – SPEKKEN THEATER FESTIVAL, Gent,Belgium
" Working with him has been a true pleasure, from the moment we contacted him to seeing him on stage. He brought laughter to many families during our celebration "

Ayah M. Younis - Children's Museum Jordan