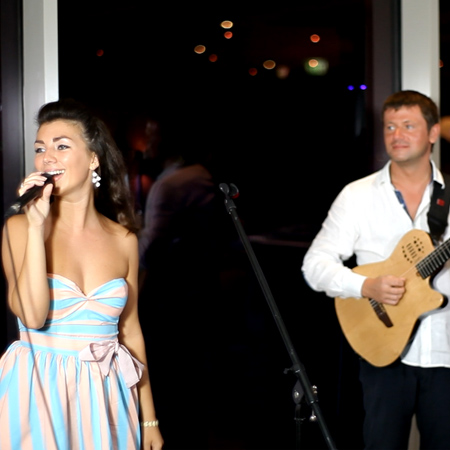 Vocalist & Guitar Duo
Versatile duo covering pop, jazz, soul & ballads in 5 different languages
Classy vocals & guitar performs highly improvised covers of songs
Performed in Germany, UAE, Austria, Cyprus, Turkey, & Russia
Deliver top class entertainment that adds additional value to any event
Based in Ukraine & available to perform at events worldwide
Vocalist & Guitar Duo PHOTOS
Vocalist and Guitar Duo Vika and Alex are professional musicians with more than 10 years of experience. Together they have worked on different stages, and in different restaurants, bars and concert halls in countries such as UAE, Austria, Germany, Cyprus, Russia, Turkey and others.
The duo was formed at the beginning of 2013 and has already worked as residents in the Rixos on the Palm Dubai and Moscow high-class bars and restaurants.
Their repertoire is in 5 languages and covers genres including pop, jazz, soul and country music. Their diversity makes them perfect for a range of events including hotels, lounges, cocktail parties, dinners, and various private events such as weddings and birthdays.
Vocalist and Guitar duo deliver top class entertainment that adds additional value to any event; with soothing vocals and crisp acoustic guitar rendition of only the best songs, they ooze glamour and sophistication.