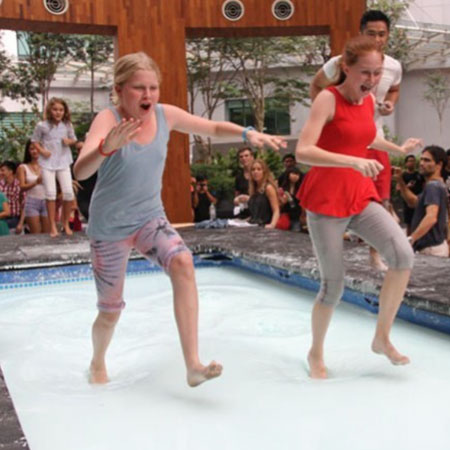 Walking On Water
Have you ever thought walking on water was impossible?
A fun interactive act for any occasion, prepare for laughter and mayhem as players race across open 'water'
An exciting kids entertainment option, most people make it across but some unlucky players get covered in slime
This act is a great footfall driver for shopping mall events, family fundraisers, parties and more
Book this unique act for events in Italy and worldwide
If you are looking for an energetic interactive act to get guests' adrenaline pumping, Walking on Water is the the answer. You may think it is scientifically impossible, you might think it is mad to give it a go…but prepare to see magic in action as guests run straight across a pool of real(ish) water! Whether you want to book a kids entertainment option to expend all of their excess energy, an exciting footfall driver for a shopping mall event or even a unique act for a corporate team building day, this seemingly ordinary pool of water is guaranteed to encourage lots of smiles and laughter. And don't think you can only tip-toe gingerly across it- this water can even be the stage for people to demonstrate their incredible dance and acrobatic talents.
The ability to walk on water is something you have imagined only in your wildest dreams. The stuff of legends, of course no real person could manage it, could they? Here to make the world a more magical place, this unique act shows that sometimes miracles CAN happen. 
A lively interactive act for any event, kids and adults alike love giving this game a go and sprinting their way across the 'pool' of water without falling in. Although many people successfully manage to walk across the water, it would be no fun if everybody were to succeed. For the lucky few who trip or go too slowly, there is a lovely slime bath awaiting them. Don't worry though, there are always staff on hand to fish people out when they fall in!
The perfect footfall driver for promotional events, street fairs and shopping mall festivals, this act can be used both indoors and outdoors. Whether you are looking for magical kids entertainment that will spark youngsters' imaginations, or a hilarious addition to a team building event- there is no age limit to this hilarious activity. Guaranteed to bring out guests' competitive sides, just watch as brave contestants break out a dance routine or even perform an incredible backflip as they cross the treacherous 'water'.
If you have any questions about booking Walking On Water for your event, don't hesitate to get in contact with our team at Scarlett Entertainment today.